Posted on
Tue, Jun 18, 2013 : 4:18 p.m.
Man pleads guilty in wife's fatal stabbing and will serve at least 30 years
By Kyle Feldscher
A 44-year-old Pittsfield Township man will serve at least 30 years in prison after he admitted Tuesday to stabbing his wife to death with two different knives earlier this year.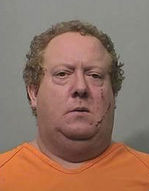 Courtesy of the WCSO
Jean-Pierre Trias pleaded guilty to second-degree murder in a plea agreement announced in court Tuesday. Washtenaw County prosecutors added the second-degree murder charge Tuesday and will drop a charge of open murder at Trias' sentencing hearing.
Trias said he killed 53-year-old Katherine Porter Jan. 10 in their Pittsifeld Township home in the 4700 block of Hickory Pointe Boulevard.
When Washtenaw County Trial Court Judge Donald Shelton asked if he killed Porter, Trias said, "Yes sir."
"How did you kill her?" Shelton asked.
"I used two different knives to stab her until she was dead, sir," Trias replied.
Pittsfield Township police discovered Porter's bloodied and bruised body in a bathroom when they responded to the home on Jan. 11. Police were dispatched to the residence after receiving a welfare check request from Trias' brother.

At a preliminary exam in March, police said Trias told his brother he had blacked out the night before, had injuries on his face and didn't know if he hurt anyone. Police found a nightmarish crime scene when they arrived.
"Blood on the vanity, blood on the floor, blood on the walls … with the knife in her stomach still," Officer Shawn Vargo said at the March hearing.
Porter's body had bruises, superficial cuts and three or four injuries that appeared to be bite marks, according to the Washtenaw County medical examiners. She was declared dead at the home on Jan. 11 by Huron Valley Ambulance personnel.
It's still unknown what might have led to Porter's death. There's never been testimony about a possible motive for Trias to murder his wife. The two had been married since August 1995.
Trias filed for divorce from Porter in November 2010, but court records show the two reconciled. There's never been any evidence presented showing a history of domestic violence in the relationship and Trias has no previous criminal convictions.
Trias is a former employee of Eastern Michigan University, where he worked from September 2003 until Dec. 31, 2012, in the mathematics department. University officials said he worked off and on at the university and held a part-time position as a coordinator of math tutoring and testing services. He also worked as a graduate assistant.
Trias was scheduled to go to trial in the case on July 15. He will instead return to Shelton's court for his sentencing hearing at 1:30 p.m. July 3.
He's being held in the Washtenaw County Jail without bond until sentencing.
Kyle Feldscher covers cops and courts for AnnArbor.com. He can be reached at kylefeldscher@annarbor.com or you can follow him on Twitter.