Man pleads guilty to nine counts in West Willow sexual assault case
Posted on Tue, Aug 21, 2012 : 5:58 a.m.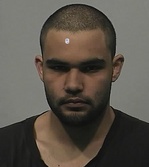 The man who put Ypsilanti Township's West Willow area on high alert in May pleaded guilty in the Washtenaw County Trial Court Monday to nine sexual assault-related counts.
Daniel Bernard Jackson, 26, will spend at least four years in prison per a sentencing agreement with the court, but could get up to 15 years. Four of the 13 charges he faced will be dismissed when he is sentenced at 1:30 p.m. Sept. 10.
Jackson recounted a few details about the attacks on the three girls that occurred on May 9.
"I went up behind her and grabbed her," he told the court about one of the incidents. "Before I could touch her, she ran away."
AnnArbor.com previously reported a 17-year-old girl was approached by a man on a bike as she walked to her school bus stop around 7 a.m. May 9 near Chevrolet Street and Studebaker Avenue.
As police were investigating that report, an 11-year-old girl told police a man matching the same description groped her chest before fleeing. Police soon received yet another call about a man with the same description attempting to abduct a different 11-year-old girl near Nash Avenue and Dodge Court.
Willow Run Community Schools went on high alert and took precautions to make sure children could safely walk to and from school. Jackson was taken into custody a day after the Washtenaw County Sheriff's Office released a wanted poster featuring a picture taken by security cameras.
A day after police questioned him, Jackson was placed under arrest and was soon charged with the 13 counts.
A fourth incident was revealed in court. Jackson pleaded guilty to not just the sexual assault on the three girls May 9, but also to an assault on a female April 16 at the Lakeshore Apartments in Ypsilanti Township.
Jackson said he "held her" and "touched her breasts."
In total, Jackson pleaded guilty to four charges of unlawful imprisonment, four charges of second-degree criminal sexual conduct and one charge of interfering with the reporting of a crime.
Two counts each of second-degree criminal sexual conduct and fourth-degree sexual conduct will be dismissed at the time of sentencing because they were duplicate charges.