Posted on
Fri, Jan 11, 2013 : 5:59 a.m.
Man who pleaded guilty to raping sleeping Ann Arbor woman will serve 20-30 years
By John Counts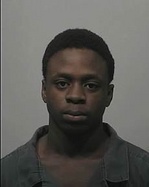 Courtesy of Washtenaw County Sheriff's Office
In a staccato exchange with attorneys, an 18-year-old man described to a judge how he broke into an Ann Arbor home and raped a sleeping woman this past summer.
Marcus Wilson, of Ann Arbor, responded to questions from lawyers and Judge David Swartz with mostly single word answers as he pleaded guilty in the Washtenaw County Trial Court Thursday to one count of first-degree criminal sexual conduct and two home invasion charges.
When asked if he broke into a home in the 1200 block of South Oakland Avenue on July 3, Wilson said, "Yes," in a barely audible voice in the crowded-but-silenced courtroom.
When asked how he got into the home, Wilson said, "Window."
When asked if he encountered a sleeping woman in the home, Wilson said, "Yes."
When asked if he sexually penetrated the woman, who he didn't know, Wilson said, "Yes," in the same low voice.
Wilson likely will spend the next 20 to 30 years in prison for the crime per a sentencing agreement. The plea agreement also called for concurrent sentences in the three charges and that a habitual offender status not be filed in the cases.
Wilson pleaded guilty as charged to second-degree home invasion for breaking into an apartment in the 700 block of South Forest Avenue on June 19 in an unrelated break-in. Swartz asked him what he stole.
"I can't remember," Wilson said.
Assistant Washtenaw County Prosecutor Blake Hatlem took over questioning as Wilson pleaded guilty to first-degree CSC and first-degree home invasion in the second case.
During the questioning, Wilson admitted to pulling an air conditioner out of a window at the Oakland Avenue residence and climbing inside with the intent to steal. Previous AnnArbor.com reports say the rape occurred around 1 a.m. Wilson saw the sleeping woman and forced her to have sexual intercourse with him while choking her, which left marks on the victim's neck, the questioning revealed.
Police have called the case 'heinous' and 'nightmarish.'
Wilson's sentencing is scheduled for Jan. 31 before Swartz.