Man who pleaded guilty to charges in 2011 shooting wanted after skipping sentencing hearing
Posted on Wed, Jul 11, 2012 : 6:19 p.m.
Police are searching for one of the men who pleaded guilty to two felonies related to a shooting in Ypsilanti last year after he skipped out on a sentencing hearing last month.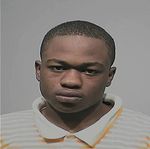 Kennyon Roshawn Jackson
Kennyon Jackson, 20, pleaded guilty May 7 to a charge of carrying a weapon while committing a felony and assault with intent to do great bodily harm and was scheduled to be sentenced on June 18, according to Detective Joseph Yuhas of the Ypsilanti police. However, Jackson never showed up for the hearing and hasn't been heard from since, Yuhas said.
"He's currently a fugitive from justice," Yuhas said.
A bench warrant has been issued for Jackson's arrest. Yuhas said it's believed he's still in the area and police are actively searching for him.
According to court records, the charges of assault with intent to murder, armed robbery, carrying a weapon with unlawful intent, discharging a firearm in a building and possessing a firearm while being a felon filed against Jackson will all be dismissed at sentencing.
Jackson was accused of shooting Antonio Cooper in the face during the incident at 11:50 p.m. July 11, 2011 in his South Grove Street apartment. Cooper was meeting with Jackson and Tory Warren to sell them some sunglasses. He told AnnArbor.com he took out a money clip to give Warren change for a $50 bill when Jackson pulled out a gun and shot him in the face.
Police found and arrested Jackson in November at a Superior Township apartment. He was lodged at the Washtenaw County Jail on a $100,000 cash or surety bond until February, when Washtenaw County Trial Court Judge Melinda Morris lowered his bond to $50,000 right to post 10 percent.
He bonded out of jail in late February after paying $5,000.
Jackson's lawyer, Steve Tramontin, was not immediately available for comment Wednesday.
Warren is scheduled to be sentenced on July 23, records show.
Anyone with information on Jackson's whereabouts is encouraged to call Yuhas at 734-482-9872 or to call Crime Stoppers at 1-800 SPEAK UP (773-2587).