Posted on
Thu, Jan 24, 2013 : 9:35 a.m.
Man caught cooking meth in Mustang sentenced to 3-10 years in prison
By John Counts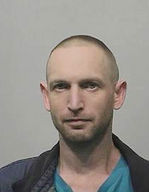 Courtesy of WCSO
The 36-year-old Ypsilanti Township man arrested in October after police say they caught him cooking methamphetamine in the front seat of his Mustang convertible was sentenced Wednesday to three to 10 years in prison.
It wasn't Jeremy David Bryant's only meth-related case, however. He will serve a concurrent three-to-10-year sentence from a previous incident. Judge Archie Brown credited Byrant with 57 days served in jail.
Bryant faced six charges total, two counts each of maintaining a methamphetamine lab, delivery or manufacture and possession of methamphetamine.
On Dec. 19, he pleaded guilty to maintaining a methamphetamine lab in one case and possession of the drug in the other. The other four counts were dismissed Wednesday.
Bryant was first arrest last spring when police discovered he was cooking meth in pop bottles at a mobile home police said Bryant occupied in the 9000 block of Geraldine Street in Ypsilanti Township.
While he was out on bond in that matter, he was caught making meth in a Mustang parked in front of a family member's home in the 7900 block of Briarbrook Drive in Ypsilanti Township.
John Counts covers cops and courts for AnnArbor.com. He can be reached at johncounts@annarbor.com or you can follow him on Twitter.