Posted on
Wed, Mar 27, 2013 : 1:10 p.m.
FBI joins Washtenaw County police agencies in vehicle shooting investigation
By Kyle Feldscher
The Federal Bureau of Investigation is assisting Washtenaw County police agencies in the investigation into three vehicle shootings reported Monday evening, an official confirmed Wednesday.
A meeting about the three incidents was held Wednesday morning involving Pittsfield Township police investigators, Michigan State Police troopers, Washtenaw County Sheriff's Office deputies and FBI agents. Simon Shaykhet, public affairs specialist with the FBI's Detroit division, confirmed the agency's involvement Wednesday.
"The FBI is working this matter in partnership with local, county, state and federal agencies," he said in an email.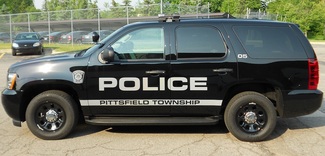 Courtesy of Pittsfield Township police
Police are investigating whether three incidents — two shootings in Bridgewater Township and one in Pittsfield Township — reported between 6 and 6:15 p.m. Monday are related. No one was injured in the incidents and police are in the early stages of the investigation.
Officials from the various agencies met at the Pittsfield Township Department of Public Safety Wednesday. It wasn't immediately clear what came out of the meeting.
Washtenaw County Sheriff's Office Sgt. Geoffrey Fox confirmed deputies were involved in the meeting. State police troopers are investigating the incidents in Bridgewater Township, where the sheriff's office shares jurisdiction with the state police.
Fox said the shootings may not be investigated by the sheriff's office directly, but officials need to be aware of what's happening.
"The reality is it's happening in our county," he said. "Whether we're handling the alleged incidents, we need to be aware of what's happening in our county."
Officials and members of the community are on alert after two previous separate incidents of people shooting at cars made headlines in the past six months.
Raulie Casteel was arrested for allegedly shooting at 24 vehicles in the Interstate 96 corridor in October, injuring one person. Casteel is facing a multitude of criminal charges, including terrorism counts. His case is headed toward trial.
More recently, Elmore Ray was arrested last month after allegedly firing a sawed-off shotgun at vehicles on U.S. 23. He's lodged at the Washtenaw County Jail and is awaiting a competency hearing.
Michigan State Police investigators told AnnArbor.com Wednesday that a report of a fourth shooting Tuesday evening was not true.
A driver was eastbound on Interstate 94 when a rear window in her vehicle shattered. It was initially feared that the window was shot out, but police determined that wasn't the case.
The vehicle has since been released and there is no criminal investigation into the incident. Police said Wednesday they don't know for certain what broke the window.
Anyone with information on Monday's shootings is encouraged to call the Pittsfield Township police at 734-822-4911, the Michigan State Police Brighton Post at 810-227-1051 or Crime Stoppers at 1-800-SPEAK UP (773-2587).

View Vehicle shootings in a larger map
Kyle Feldscher covers cops and courts for AnnArbor.com. He can be reached at kylefeldscher@annarbor.com or you can follow him on Twitter.