Posted on
Tue, Mar 26, 2013 : 4:05 p.m.
Police investigate whether 3 vehicle shootings Monday are related
By Cindy Heflin
Editor's note: This article has been updated with comments from Matt Harshberger, Pittsfield Township public safety director.
Police are investigating three vehicle shootings reported in Washtenaw County Monday evening within 15 minutes of each other. One was on Michigan Avenue in Pittsfield Township east of Saline. The other two were on Austin Road in Bridgewater Township east of Manchester.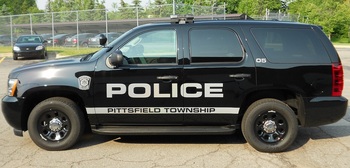 Courtesy of Pittsfield Township police
No one was injured in any of the shootings, police said. They are investigating to determine if they are related.
"We do believe they're probably related," said Matt Harshberger, Pittsfield Township public safety director, noting they occurred within a few minutes of each other and within a relatively short distance.
The shooting in Pittsfield Township occurred about 6:15 p.m. when a bullet struck the driver's side door of a westbound vehicle on Michigan Avenue east of Industrial Drive. The 72-year-old driver from Pittsfield Township was not injured and reported the incident to Pittsfield Township police.
The other two shootings occurred about 6 p.m. on Austin Road. Police said a wesbound 2005 Chevy Silverado pickup driven by a Manchester man was shot on Austin Road east of Ernst.
The second shooting occurred on Austin Road west of Schneider Road. State police said a westbound 1999 Pontiac Grand Prix was shot on Austin Road west of Schneider Road. The woman who was driving the car is from Adrian, police said.
Initial reports Monday evening indicated a green vehicle might have been involved in the shootings.
Anyone with information regarding the incidents is asked to contact the Michigan State Police Brighton Post at 810-227-1051 or the Pittsfield Township Police Department at 734-822-4911 or the confidential tip line at 734-822-4958.
"Even if it's the smallest potential thing we will follow up on it," Harshberger said.

View Vehicle shootings in a larger map