Officials confirm death of Nathan Tracy, found in Pittsfield Township pond
Posted on Tue, Sep 11, 2012 : 4:59 p.m.
Police confirmed Tuesday that the body found in a retention pond in Pittsfield Township Saturday is that of Nathan Tracy, a 19-year-old who had been missing since a car crash last week.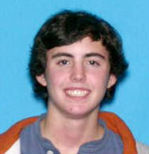 Dental records confirmed Tracy, of Trenton, was found Saturday morning after he was last seen at 11:30 p.m. Wednesday on Ranchero Drive near Oak Valley Drive after a car crash, police said. The official cause of death is still unknown, Washtenaw County Chief Medical Examiner Dr. Jeff Jentzen said Tuesday.

"We haven't gotten anything back yet," he said.

The Ford Focus Tracy was driving crashed into a truck parked in a car port, and he briefly spoke with a witness near the incident before disappearing, police said.

He was reported missing on Thursday and dozens of volunteers, along with police, searched the area around the crash Friday afternoon and into the evening. The search included a Michigan State Police helicopter and police dogs.

A maintenance worker reported finding a body at 10:38 a.m. Saturday in a pond at the Weatherstone Condominiums off Oak Valley Drive. Although preliminary identification made police believe they had found Tracy, it took until Tuesday for confirmation. Jentzen reported Monday the autopsy was complete.

Public Safety Director Matt Harshberger said Tuesday police are just waiting on toxicology reports to come back from the medical examiner's office to complete the investigation. Harshberger said there was evidence Tracy was intoxicated at the time of the crash, but any official ruling will come after the toxicology reports are done.

"The detectives are in contact with the family, but at this juncture, now that the autopsy is done and he has been positively identified … we're just waiting for the official cause of death before concluding the official investigation," Harshberger said.