Posted on
Wed, Jul 27, 2011 : 12:21 p.m.
Ann Arbor police believe 1 or 2 men are responsible for 6 recent attacks on women
By Lee Higgins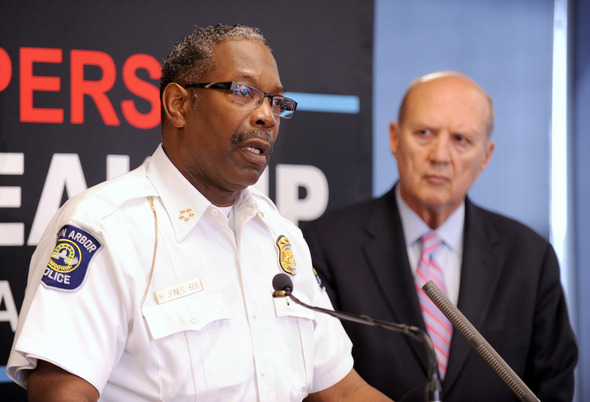 Angela J. Cesere | AnnArbor.com
Saying we "have a predator or predators operating in our community,"
Ann Arbor
Police Chief
Barnett Jones
urged women to use common sense when walking around the city as police continue to investigate six
recent attacks
, including two rapes.
Jones spoke this morning at a press conference at the justice center downtown, where Crime Stoppers of Michigan announced a $2,000 reward for information leading to an arrest by midnight today of a suspect in the case.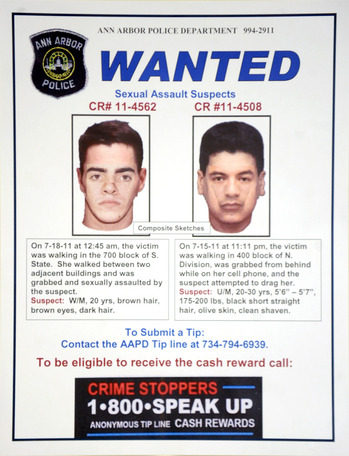 One or two men are believed to be responsible for the attacks, Jones said, as police released a sketch today of a suspect in the second attack July 15.
In that case, a man grabbed a 19-year-old Ypsilanti woman in the 400 block of North Division Street about 11 p.m. while she was on her cell phone, police said. He attempted to drag her into a secluded area, but she got away. The attacker was described as 5 feet, 6 inches to 5 feet, 7 inches tall, 175 to 200 pounds, with short, straight black hair. He was clean shaven and had olive skin.
The most recent attack occurred Tuesday night in a parking lot in the 700 block of South State Street. A 21-year-old University of Michigan student retrieved something from her car about 11:30 p.m. and then was grabbed from behind and fondled by a man, before breaking free, police Lt. Mark St. Amour said.
Five of the attacks occurred in a little more than a 72-hour span from July 15 to July 18. Two women were raped July 18. One rape occurred in the same block as Tuesday night's attack. In that case, an 18-year-old Ann Arbor woman was pulled into an alley about 12:40 a.m. and sexually assaulted. She was taken to the University of Michigan Hospital, but St. Amour would not say today whether a rape kit was submitted to a state police lab for DNA analysis. Police released a sketch last week of that attacker, who was described as white, between 5 feet, 6 inches and 5 feet, 10 inches tall, with brown hair and brown eyes. He was wearing a green T-shirt and khaki cargo pants.
In all cases, women walking alone were attacked late at night or early in the morning and apparently targeted at random. The victims were between the ages of 18 and 26. Their physical descriptions varied, including in hair color and size, police said.
Jones said 15 officers have been working on the case since the beginning, and multiple agencies are assisting. He declined to say whether the Michigan State Police or FBI were involved. FBI Special Agent Sandra Berchtold, a bureau spokeswoman in Detroit, could not immediately be reached for comment this afternoon. Michigan State Police officials also could not be reached for comment.
Jones said the attacker or attackers are taking advantage of the safe, open community in Ann Arbor, where people feel comfortable walking or jogging alone late at night.
"It is still a great town and it is very upsetting," he said.
But Jones assured people that police are going to bring the case to a conclusion.
University of Michigan police are assisting in the case and have stepped up patrols. University police Lt. Bob Neumann said the string of incidents also is being discussed at student orientations.
John Broad, president of Crime Stoppers of Michigan, said it's "tremendously important" for anyone with information to come forward. He distributed a poster that urged people to keep an eye out for anyone new in their neighborhood that may fit one of the descriptions. The poster also said the attacker or attackers may be window peeping, even though there have been no such reports.
Anyone with information can call the Ann Arbor Police Department's confidential tip line at (734) 794-6939 or Crime Stoppers 1 (800) SPEAK UP. The reward for Crime Stoppers is $2,000 only if the arrest is made by midnight today. Otherwise, it is $1,000.
Lee Higgins covers crime and courts for AnnArbor.com. He can be reached by phone at (734) 623-2527 and email at leehiggins@annarbor.com.