Posted on
Wed, Jul 27, 2011 : 10:59 a.m.
Updates from press conference on assaults against women in Ann Arbor
By Heidi Fenton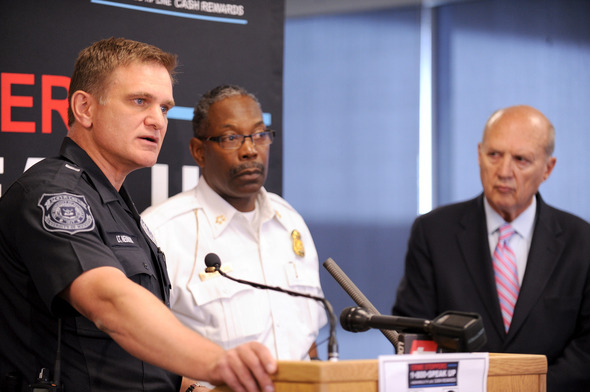 Angela J. Cesere | AnnArbor.com
Ann Arbor police are releasing a new composite sketch of a suspect and other information during an 11 a.m. press conference called to address the recent series of assaults against women in the area around downtown and the University of Michigan campus. The press conference is taking place at the Ann Arbor Justice Center. Here are live updates: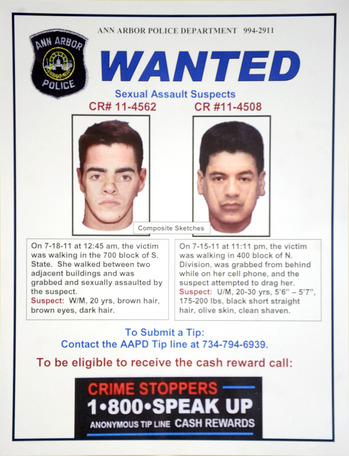 11:02 a.m. News crews are gathering in the Justice Center and the conference should begin shortly. Crime Stoppers has distributed a list of three things to watch out for as the investigation continues:
1. Inappropriate sexual attention
2. Window peepers
3. A new person in the neighborhood that fits the description police have released in a previous composite sketch.

11:05 a.m. Police Chief Barnett Jones is taking the stand. "I'm about to begin a conversation I believe no law enforcement officer would ever want to give to his community. We have a predator or predators operating in our community."
11:07 a.m. Jones addressing the list of safety tips: "Collectively over the 6 incidents we have deemed these points to be the ones that have a similar nature as to the suspect."
11:12 a.m. A second composite sketch has been released.
Jones: We believe it could be one person or two. Why narrow the focus with one composite when we are getting such a wide variety of information?
11:14 a.m. Jones on the investigation and suspect: "This is not by accident, this is on purpose. He is victimizing people in my community. It is a shame, it is upsetting, but he brought this on himself."
11:16 a.m. John Broad, president of Crime Stoppers of Michigan, has taken the stand.
Broad said the suspect may not necessarily be a window peeper, but it's something to look out for. There is an increased reward amount today, he said.
"If we receive a tip that results in an arrest by midnight tonight, the total reward will be $2,000."
11:19 a.m. Lt. Robert Neumann from the University of Michigan Department of Public Safety is now speaking. The university is doing all it can to assist the city in the investigation, he said, including rearranging work schedules, minimizing vacations within the public safety department.
11:23 a.m. Neumann: Walk with a trusted friend whenever possible, stay in well-lit areas. Newman is encouraging people to keep looking around and focus on surroundings at night rather than talking/texting on a phone.
11:24 a.m. AAPD Chief Jones: "It is my hope the next time we have a press conference, we will be announcing we have a suspect in custody."
11:25 a.m. The conference has ended.