Posted on
Tue, Nov 27, 2012 : 12:52 p.m.
Paperwork problem postpones shooter's sentencing
By John Counts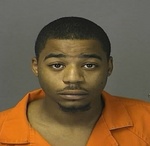 From Ypsilanti Police
The 24-year-old Ypsilanti man who took a plea deal in a case involving the shooting of three men in a drug deal gone bad will wait another week to receive his sentencing.
Quenton Dodson appeared in the Washtenaw County Trial Court prepared to be sentenced Monday, but the pre-sentence report was incomplete due to a miscommunication between Judge Melinda Morris and the office that prepares it.
An updated report was not included in the case file and rather than go through every correction before the sentencing with Dodson's attorney, Assistant Washtenaw County Public Defender Stephen Adams, Morris chose to adjourn it until next Monday.
"I want a complete report," Morris said.
Dodson pleaded guilty in October to felony firearm and no contest to three counts of assault with intent to do great bodily harm. Nine other counts, as well as a habitual offender status, will be dismissed.
The shooting incident occurred in Ypsilanti on March 23 in the 300 block of Jarvis. According to police, Dodson was attempting to sell Oxycontin to four people when the deal fell apart. Police said Dodson pulled out a gun and fired on the group, injuring three people between the ages of 18 and 20. One man was hit in the stomach, one suffered a hip wound and another was struck in the chest. All of them survived the incident. Dodson was eventually arrested in Detroit and brought back to Washtenaw County to face charges.
A sentencing deal was not part of the plea bargain. Dodson will serve at least two years in prison on the felony firearm charge, a sentencing mandated by the state. Morris will decide the sentencing Monday. A charge of assault with intent to commit great bodily harm has a maximum penalty of 10 years in prison.
Dodson remains at the Washtenaw County Jail on $300,000 cash bond.
John Counts covers cops and courts for AnnArbor.com. He can be reached at johncounts@annarbor.com or you can follow him on Twitter.