Posted on
Thu, Feb 23, 2012 : 5:59 a.m.
Police chief: Home invasions in Ann Arbor contributing to increasing crime rate
By Kyle Feldscher
Crime in Ann Arbor hit an all-time low in 2011, but 2012 is already shaping up to be a very different year due to a spike in home invasions, according to Chief Barnett Jones.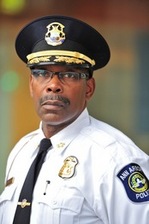 Jones said the recent wave of residential burglaries in Ann Arbor has contributed to crime occurring at a higher rate than any of the last three years in January and February. He said it's not unexpected — once an all-time low is reached, it's rare for crime to keep going down — and police are responding.
"There are people out there now who, from the end of last year to the beginning of this year, have caused us to have a spike in home invasions," he said, "because they're committing home invasions at a rate we haven't seen in the last three years. We're out there, we're looking for them, we've made some arrests and we're hoping to make more because they need to be caught."
AnnArbor.com reported last week that city officials were growing concerned enough about the recent uptick in home invasions to put neighborhood watch groups on alert. According to CrimeMapping.com, there have been 67 home invasions reported to Ann Arbor police since the beginning of the year. CrimeMapping.com does not have information available for the same time periods in 2011, 2010 and 2009.
Jones said the exact reason for the rise in home invasions is unknown, but pointed toward the end of extended unemployment benefits, job loss and other economic factors as possible reasons.
It's believed that there are a small number of people committing the break-ins and they possibly could be working in a group, Jones said.
"We don't have a large group of people who take it upon themselves to break into other people's houses in our community," he said.
Jones compared the current rise in home invasions to a rash of break-ins that occurred in Ann Arbor's Old West Side neighborhood in 2009, which were also being caused by a small number of people. However, the main difference now is that the rise in home invasions is not contained to one neighborhood — it's citywide.
Ann Arbor police Lt. Renee Bush, the department's spokeswoman, said the crimes have been happening throughout the city and during the daylight hours.
She said jewelry, laptop computers, passports and foreign currency have been among the items targeted by burglars.
Bush encouraged anyone who has had their home broken into to immediately call police instead of searching the house on their own. There have been many delays in reporting recent home invasions, Bush said.
"There have been delays in reporting because people are calling family members or going through the house themselves," she said. "We don't want you to do that. Call 911 if your house has been broken into."
There has been at least one arrest made in a recent home invasion and police are continuing to investigate each incident, Jones said. Police are planning a public meeting at a local elementary school to reach out directly to the community and have a conversation about the break-ins, but a time and date has yet to be set.
Jones encouraged all city residents to take precautions — like locking doors, closing the garage door, turning on lights when no one's home, communicating more with neighbors and calling police if there's anything suspicious happening — to both protect themselves and help police catch perpetrators.
He emphasized that Ann Arbor is normally a very safe community, but criminals are looking for opportunities to commit crimes. He said it's up to citizens to not provide them those opportunities.
Jones retold a conversation he had with a long-time city resident who was resistant to the idea of locking her doors and protecting herself.
"She said she moved here, she'd been here for 30 years and she never locked her doors and wasn't doing it," he said. "I looked at her and said, 'It's time.' It's time. Those days are gone. It's time to take away the opportunity so you don't become a victim.'"
"There are people out there looking for the opportunity to make you a victim. They don't have a job, their unemployment has run out or this is what they do for funsies to make money."
Kyle Feldscher covers cops and courts for AnnArbor.com. He can be reached at kylefeldscher@annarbor.com or you can follow him on Twitter.