Posted on
Tue, Jul 31, 2012 : 3:26 p.m.
Police investigating possible links between pharmacy burglaries in Ann Arbor, Dexter and Saline
By Kyle Feldscher
A rash of pharmacy burglaries in the last week across Washtenaw County has at least three different area police agencies comparing notes while business owners react with shock.
Ann Arbor police Lt. Renee Bush reported the Stadium Pharmacy, 1930 Stadium Blvd., and Village Pharmacy, 325 N. Maple Road, were broken into this weekend. Someone stole five bottles of cough syrup containing codeine from the Stadium Pharmacy sometime between Thursday afternoon and Friday morning, and Cialis, Vicodin and hydrocodone pills were reported stolen from the Village Pharmacy Sunday.
The Dexter Pharmacy, 2820 Baker Road, was also broken into sometime during the weekend, according to Washtenaw County Sheriff's Office Sgt. Geoffrey Fox. Details on that break-in were sparse because the report is not complete yet, Fox said.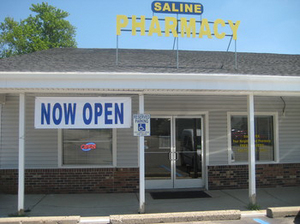 Laura Blodgett | For AnnArbor.com
The three break-ins came on the
heels of a July 21 burglary
at the
Saline Pharmacy
, where an intruder, or intruders, targeted an area of the store that used to contain Oxycontin and hydrocodone. Saline police Detective
Don Lupi
said the recent incidents could be linked to pharmacy break-ins across multiple Michigan counties, with police from multiple agencies working together to investigate.
"We've determined that some of them are related," Lupi said. "However, there could be more than one group involved too."
Bush said she's not sure if the break-ins in Ann Arbor this weekend were related, but Detective Michael Dortch, who is working the Ann Arbor cases, will be getting in touch with Saline and Washtenaw County investigators to speak about the incidents.
Bush said the crimes did share a couple of characteristics: The front doors of the pharmacies had been pried open and very specific drugs were being stolen. She said more expensive types of drugs were sometimes being left behind, such as in the Stadium Pharmacy burglary.
"They have a shopping list and they're taking specific things and then getting out of there," she said.
While police investigate the incidents, Xavier Tato is still reeling from the crime at his store.
Tato, the owner and pharmacist at Stadium Pharmacy, said Tuesday he was shocked by the burglary, the first one in the store's history. The store has internal lights that stay on for 24 hours and an alarm, but those deterrents didn't stop someone from taking five bottles of cough syrup that contained codeine.
Tato said he was surprised the only stolen items were the bottles of cough syrup instead of drugs like Oxycontin and Vicodin.
"You would think (that's what they'd take)," he said. "But, on this one they went straight for the liquid."
He'll continue to take safety precautions, but Tato said he has confidence his pharmacy won't become a repeat victim.
"It's a relatively safe area," he said.
Anyone with information on the thefts is encouraged to call Lupi at 734-429-7911, the Ann Arbor police at 734-794-6921 or the Washtenaw County Sheriff's Office anonymous tip line at 734-973-7711.
Kyle Feldscher covers cops and courts for AnnArbor.com. He can be reached at kylefeldscher@annarbor.com or you can follow him on Twitter.