Posted on
Mon, Apr 2, 2012 : 11:53 a.m.
Police make two arrests related to Ann Arbor graffiti problem
By Kyle Feldscher
Two Ann Arbor men suspected of tagging property around the city with graffiti were tagged themselves late last week after being arrested on felony vandalism charges.
Ann Arbor police officers arrested a 17-year-old city resident Thursday for spray-painting a building at 220 Felch Street in mid-March, according to Lt. Renee Bush. Police also arrested an 18-year-old man on Saturday after police received a call from a witness who saw the man vandalizing a playground in the 1400 block of Granada Avenue, Bush said.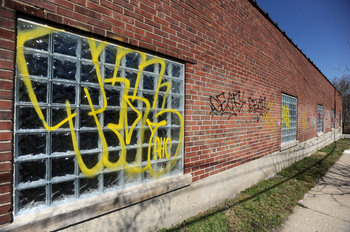 Angela J. Cesere | AnnArbor.com
Robert Cleveland, owner of 220 Felch Street, said he was pleased at the news of the arrests, especially the arrest of the man accused of tagging his building just days after he spent $3,000 to clean it. He praised police for their investigation and called on the court system to dole out appropriate punishment.
"It's the judges' turn," he said. "In a lot of these cases, the judges want to broom it out and bounce it off, throw a fine at them and that's it. The judges need to to find some way to maximize the impact so they don't continue to do it. If there's no real repercussion, they'll be out doing it again."
The arrests come after a lengthy investigation into the graffiti problem that's been costing business and property owners around the city thousands of dollars. Neither man has been arraigned on the charges, so their names were not released by police.
Bush said the 17-year-old man was arrested Thursday after Detectives Bernard Tucker and Craig Lee had developed enough of a case to get a search warrant for the man's home. Bush said spray paint cans, paint pens and electronics showing evidence of graffiti were seized from the home during the search.
The man is suspected of tagging Cleveland's building sometime between 6 p.m. on March 10 and 7:30 a.m. on March 14. Cleveland's building was cleaned of all graffiti on March 10 and, just days later, the building was vandalized again — not only with spray paint but with tags etched into the skylight on top of the building.
The 17-year-old man is set to be arraigned on a charge of malicious destruction of property more than $1,000 but less than $20,000. If convicted, he could face up to five years in prison and a $5,000 fine.
Cleveland said he's considering a civil suit against the man as well.
"The responsibility doesn't being and end with the AAPD or the city — individual property owners need to take up the cause too," he said. "Hopefully at least a few other property owners in town will take the lead as well and take their own civil actions. Maybe we'll reach a critical mass where these kids and their parents realize this just isn't worth it any more."
John Minock, who owns a building in the 300 block of East Liberty Street, said he was pleased to hear the news of the arrest as well. Minock believes his building been victimized by the 17-year-old man's tagging as well and he'll be looking to get restitution through any criminal case brought against him.
"I'm glad the person who tags as Gexir has been arrested because three panes of glass at our office building have been etched with that name," he said.
The second arrest came after a witness notified police a man was vandalizing the play structure in Las Vegas Park, Bush said.
Police responded to the park at 1:50 p.m. Saturday looking for a silver vehicle, the description given for the suspect's car. Officers Jason Kitts and Kevin Kleitsch looked up a similar report from March 23, with a matching vehicle description, and went to the address of that report's suspect, Bush said.
The officers arrested the man at that residence after he matched the description given by the caller, Bush said. Tucker continued the investigation and determined the man had tagged a trash can and a pole leading up to a row of swing bar handles, according to Bush.
The 18-year-old Ann Arbor man is yet to be arraigned, but is expected to be charged with malicious destruction of property more than $1,000 but less than $20,000 as well, Bush said.
While the arrests may not stop the city's graffiti issues immediately, Cleveland hopes a message gets sent to vandals — and their parents.
"There's culpability, not just with the individuals but with their parents too," he said. "Surely their parents know what's going on, and for them to not step in and take action … they should be taking responsibility for this."
Kyle Feldscher covers cops and courts for AnnArbor.com. He can be reached at kylefeldscher@annarbor.com or you can follow him on Twitter.