Posted on
Wed, Jan 9, 2013 : 5:50 p.m.
Police release update in death of EMU student Julia Niswender
By John Counts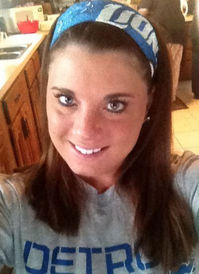 Photo from Facebook
Police don't have much more information to share with the public in the homicide investigation of 23-year-old Julia Niswender than they did a few weeks ago.
In an update sent out Wednesday afternoon, Ypsilanti police said they continue to investigate and conduct interviews while closely working with Niswender's family.
"We are still awaiting results from toxicology, forensic laboratory analysis and a final autopsy report," the release said.
Messages left with Ypsilanti police by AnnArbor.com Tuesday and Wednesday afternoon were not immediately returned.
Jacob McLaughlin, who has been designated as the Niswender family spokesperson, said the family is still waiting on answers.
"They're angry and they're frustrated," he said.
However, the family understands police need time to conduct a proper investigation, according to McLaughlin, who added the public perception is that crimes get solved in an hour like on television procedurals.
"We expect the same," McLaughlin said. "But this isn't one of those shows."
McLaughlin has known the Niswender family for nearly 12 years and graduated in 2008 from Monroe High School with Julia and her twin sister, Jennifer. The sisters would have shared a birthday later this month on Jan. 25, which is heightening emotions around the Niswender household, McLaughlin said.
Police found Niswender dead at 9:30 p.m. Dec. 11 in her Peninsular Place apartment. Investigators were called to the residence after a suitemate reported Niswender hadn't been seen for a few days. Ypsilanti police immediately ruled the death a suspected homicide.
There's been no indication from police on what was found in Niswender's apartment that led them to rule her death a possible homicide and the results of an autopsy, performed days after she was found, were inconclusive.
The 23-year-old Monroe Township native had no signs of trauma on her body during the autopsy.
John Counts covers cops and courts for AnnArbor.com. He can be reached at johncounts@annarbor.com or you can follow him on Twitter.