Posted on
Wed, Dec 12, 2012 : 8:22 a.m.
Police investigating EMU student's death as apparent homicide
By Cindy Heflin
Editor's note: This article has been updated with information from the scene of the crime and from Huron Valley Ambulance spokeswoman Joyce Williams.
Ypsilanti police are treating the death of an Eastern Michigan University student as an apparent homicide.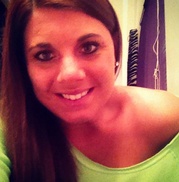 Julia Catherine Niswender,
23, was found dead in her apartment in the 1000 block of Huron River Drive about 9:30 p.m. Tuesday night, Ypsilanti police said in a press release.
The cause of death has not been determined, police said in the release.
The apartment is part of the Peninsular Place apartments near the intersection of Huron River Drive and LeForge Road.
According to her page on Facebook, Niswender was studying communications at EMU and working as a sales associate at Walmart in Pittsfield Township. She's a graduate of Monroe High School and attended Monroe Community College.
EMU police are working closely with Ypsilanti police in the investigation, EMU spokesman Walter Kraft said in an emailed message to the campus community Wednesday morning.
The Peninsular Place apartments were quiet Wednesday morning, with a few EMU students making their way to class down Leforge Road toward campus, peering at the TV news truck parked in the entryway of the complex.
Niswender's first-floor apartment had decorative candy canes hung from the door. A friend wrote a note on a blue advertisement, reading simply "RIP = ? Love you, Julia."
Neighbors living in the same section of the complex as Niswender declined to speak to AnnArbor.com when they answered their doors Wednesday morning.
Nikki Jackson lives in an apartment near the block of apartments where Niswender died Tuesday. Jackson said she returned home at 8 p.m. and nothing was out of the ordinary. About 9:30 p.m., there were suddenly police cars outside her window.
Jackson said she didn't go near the area of Niswender's apartment because police had the area blocked off.
"They weren't letting people in that section and the people who parked there had to walk around so they wouldn't come close to the area," she said.
Jackson said a van came, seemingly from the Washtenaw County Medical Examiner's Office Wednesday. Two amublances from the Huron Valley Ambulance service were sent to the scene as well, spokeswoman Joyce Williams said. However, Niswender was pronounced dead at the scene upon their arrival.
"There was nothing we could do," Williams said.
Anyone with information about the case is asked to contact Detective Sergeant Thomas Eberts at 734-482-9878 or Crime Stoppers at 1-800-SPEAKUP (773-2587).
AnnArbor.com reporter Kyle Feldscher contributed to this report.