Posted on
Wed, Jun 19, 2013 : 10:17 a.m.
Police release video of drunken driver hitting officer at Burger King drive-thru
By John Counts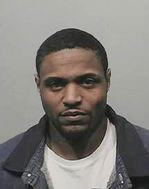 Courtesy of WCSO
Police recently released the video of a 39-year-old Ypsilanti man swiping a Pittsfield Township police officer in the parking lot of a fast food restaurant last winter.
Robert Addie had a blood alcohol content of .25 and was considered "super drunk" by Michigan law when he went through the Burger King drive-thru on Michigan Avenue across the street from the Pittsfield Township police department at 1:38 p.m. on Valentine's Day.
Police said they were called to the restaurant because Addie and another man in the 2003 Ford Taurus were "causing a disturbance with employees."
A minute-long video recently obtained from the Pittsfield Township Department of Public Safety via a Freedom of Information Act request shows one officer talking to the passenger in the Taurus as its parked at the drive-thru window while another officer stands in front of the vehicle.
As the officer in front of the car tries directing the vehicle to pull over to the side of the parking lot, Addie makes a break for it, swiping the officer who stumbles and falls to the ground.
When Addie was sentenced 2-5 years in prison last week, the prosecution and defense had two different versions about what happened.
Assistant Washtenaw County Prosecutor John Vella pointed out Addie was a serial drunken driver and portrayed the incident as being one step away from something more serious. He said Addie might have faced stiffer charges had the officers not gotten out of the way.
"Otherwise, this may have been a murder case," he said.
Assistant Washtenaw County Public Defender Christopher Renna said Addie didn't aim the car at the Pittsfield Township police officer.
"(The officer) had an instinct to stand in front of the car to stop it from going forward," he said. "This is a knee scrape."
After hearing the arguments, Judge David Swartz sentenced Addie to 2 to 5 years on operating while intoxicated, third offense, 2 to 4 years on one count of assault with a dangerous weapon and 1 to 2 years on resisting arrest charges. The sentences will run concurrently.
In previous court proceedings, it was revealed Addie also was convicted of drunken driving in 1994, 1999, 2001 and 2006.
The remainder of the video shows police following Addie down Michigan Avenue, where patrol vehicles swarm his in front of the police station. He resisted, but was subdued and arrested on the spot.
John Counts covers cops and courts for AnnArbor.com. He can be reached at johncounts@annarbor.com or you can follow him on Twitter.