Posted on
Tue, Sep 3, 2013 : 5:58 a.m.
Police still working Plymouth Road crash that killed U-M student: 'These investigations don't happen overnight'
By Kyle Feldscher
Melanie Maxwell | AnnArbor.com
Ann Arbor police continue to investigate the crash that killed Sharita Williams in early August and work could continue for weeks.
Officer Jamie Adkins, the lead investigator on the case, said more investigation has to be done before the case can be turned over to the Washtenaw County Prosecutor's Office for potential charges. She said no arrests can be made before the investigation is complete.
"Any time you submit an investigation, you want to make sure all your i's are dotted and all your t's are crossed," she said.
Williams was hit by a green Chevrolet Cavalier on the afternoon of Aug. 7 while crossing Plymouth Road between Nixon Road and Traverwood Boulevard. She died two days later at University of Michigan Hospital from injuries sustained in the crash. She was 20 years old.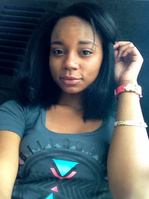 Facebook photo
On Friday, Adkins corrected initial reports that Williams was crossing Plymouth Road from south to north. She said Williams was actually crossing the road from north to south, meaning she was hit just feet before she got out of Plymouth Road. Williams was hit in the far right lane of eastbound Plymouth Road and came to rest in the grassy portion of the pedestrian island.
Witnesses told AnnArbor.com the Rapid Rectangular Flashing Beacon (RRFB) lights at the pedestrian crosswalk where Williams was crossing had been flashing for at least 30 seconds.
Adkins said the driver of the Cavalier was interviewed at the scene of the crash, but did not show up for a follow-up interview the next day. Police told AnnArbor.com the woman hired a lawyer and informed police through her attorney that she would not be interviewed again.
It's normal for police to want to re-interview people involved in crashes 24 hours later, Adkins said.
There was no sobriety test done on the scene because there was no indication one was required, Adkins said. Without the driver appearing intoxicated or another extenuating circumstance, no arrest could be made at the scene of the crash.
"At that point, an investigation isn't complete," she said. "The investigation has to be completed to see if there are any violations. If there are violations, the charges must be determined by the prosecutor's office."
Adkins declined to comment about what portions of the investigation remain.
Officials have previously told AnnArbor.com the woman driving the Cavalier is allowed to drive while the investigation continues.
Adkins acknowledged the high amount of interest in this particular case, but urged patience. She said investigations into fatal crashes involving pedestrians often take weeks to complete and then prosecutors can take weeks to consider pressing charges.
"These investigations don't happen overnight," she said.
Adkins added, "Unfortunately, someone's life is already affected by this and there's another person waiting to see how their life will be affected."
Kyle Feldscher covers cops and courts for AnnArbor.com. He can be reached at kylefeldscher@annarbor.com or you can follow him on Twitter.