Preliminary exam for man accused in fatal beating will continue in September
Posted on Thu, Aug 23, 2012 : 4:01 p.m.
A preliminary examination for the second man accused of taking part in the fatal beating of William Kenney will continue next month after starting on Tuesday, records show.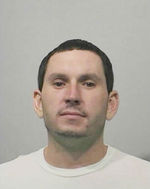 Courtesy of the Washtenaw County Sheriff's Office
Jonathon Aiden, 32, is charged with open murder, safebreaking and breaking and entering a building with intent to commit a crime. Prosecutors have said they will seek to have him tried on charges of conspiracy to commit breaking and entering with intent to commit a crime and conspiracy to commit safebreaking.
The preliminary exam into the incident began at the 14A-1 District Court Tuesday afternoon. Court records show the hearing was adjourned and will continue at a hearing starting at noon Sept. 18 for more testimony, according to court records.
Despite the fact that the preliminary exam has not been finished and the case has not been bound over to the Washtenaw County Trial Court, court records show a trial date has been set for Oct. 15 in front of Washtenaw County Trial Court Judge Melinda Morris.
Aiden is accused of working with Shane Roscoe, who was convicted and sentenced to life in prison for his role in the incident, to kill Kenney in August 2006. According to police, Aiden and Roscoe broke into Jim Bradley Pontiac GMC in Scio Township. They then allegedly beat and ran Kenney over with a car.
Aiden had been serving prison time in Florida for burglary before being extradited to Michigan to face charges in Kenney's death.
Attorney Steven Tramontin is representing Aiden, who is being held in the Washtenaw County Jail without bond.