Posted on
Wed, Jul 18, 2012 : 5:45 p.m.
Victim's family believes 'justice was done' after convicted murderer is sentenced to life without parole
By John Counts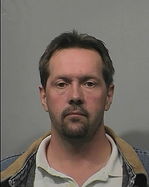 Shane Roscoe, 47, of Redford Township, wiped the tears from his eyes Wednesday after being sentenced to life in prison without parole for the 2006 murder of 55-year-old William Kenney.
"We're satisfied," said Peter Kenney, the victim's brother. "We think the prosecution did a very good job. We believe justice was done." Peter Kenney and other family members attended the sentencing in Judge Archie Brown's courtroom
Roscoe, who has a long criminal history, was charged as a fourth degree habitual offender.
"He has been heading to this point since 1982," said Assistant Washtenaw County Prosecutor Dianna Collins. That was the year when Roscoe first got in trouble with the law,
Some of Roscoe's previous convictions include attempted burglary, unarmed robbery and receiving and concealing stolen property, all in 1984; escape from prison in 1986; stalking in 1997 and assault with a dangerous weapon in 2001.
"I think this is a fitting sentence given his disregard for human life," Collins said.
Life without parole is the stiffest sentence for first-degree felony murder — committing a murder while in the process of committing another felony. He was also sentenced on two other charges in the Washtenaw County Trial Court. Roscoe was sentenced to 19 to 50 years for safe breaking and 12 to 24 years for resisting a police officer.
In June, a jury found Roscoe guilty of breaking into his former place of employment, Jim Bradley Pontiac GMC in Scio Township in August 2006. Prosecutors said he stole auto-related equipment and materials. During the break-in, Roscoe encountered Kenney, who worked at the dealership, prosecutors said.
Roscoe, along with another man, Jonathon Aiden — whose case is still pending — hit Kenney on the head with a hard object and then drove a vehicle over him, prosecutors said.
Kenney was taken to University of Michigan Hospital, where he died of injuries from the beating on Sept. 14, 2006. Roscoe, an ex-Democratic candidate for Putnam Township supervisor, wasn't arrested and charged in the case until 2011.
When asked if he had anything to say before sentencing, Roscoe mumbled something inaudible to the rest of the courtroom before Brown proceeded.
"He still maintains his innocence," said John Vella, Roscoe's court-appointed attorney.
Roscoe appeared in Judge Donald Shelton's courtroom Tuesday in a last-ditch attempt to get Brown disqualified from the case. Shelton denied the motion.
John Counts covers cops and courts for AnnArbor.com. He can be reached at johncounts@annarbor.com or you can follow him on Twitter.