Posted on
Thu, Oct 20, 2011 : 3 p.m.
Prosecutors seek forfeiture of more than $110,000 from Ann Arbor medical marijuana clinic
By Lee Higgins
Washtenaw County prosecutors are seeking the forfeiture of more than $110,000 from an Ann Arbor medical marijuana clinic that was raided in August, alleging the business profited from illegal marijuana sales.
In a recent court filing, prosecutors say MedMar clinic at 1818 Packard Street sold marijuana to an undercover officer who had an expired medical marijuana card and the clinic's owner kept marijuana at his home that wasn't locked up.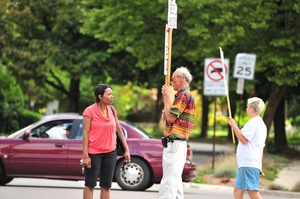 Ryan J. Stanton | AnnArbor.com
So far, no criminal charges have been filed against the clinic's employees, but the investigation continues, state police drug investigators said today.
On Aug. 25, investigators executed search warrants at MedMar and A2 Go Green Corp, a dispensary at 206 South Main St., after the businesses allegedly didn't follow guidelines established for operating dispensaries.
James Earl Chaney, 37, of Ann Arbor, who operated A2 Go Green Corp, was charged last month with possessing methamphetamine/ecstasy and delivery of marijuana, said Det. 1st Lt. Wynonia Sturdivant, who supervises the Livingston and Washtenaw Narcotics Enforcement Team. He has not been arraigned in court and Sturdivant said she did not have details.
Last week, County Assistant Prosecutor Mark Kneisel filed a complaint for forfeiture against MedMar, owner David Ghezzi and employees Branden Ghezzi and Jordan Ghezzi. It alleges that an undercover officer with no assigned caregiver bought marijuana with an expired medical marijuana card and that David Ghezzi kept marijuana at his Ann Arbor home that was not in an enclosed, locked facility.
In addition to searching the business and David Ghezzi's home, investigators have executed search warrants on two bank accounts in Ann Arbor and one in Illinois. The total amount seized is more than $114,000.
Chuck Ream, president of MedMar, is disputing the recent allegations. He said employees always check to make sure patients have valid paperwork.
"The idea that someone could come in and buy from our dispensary without a valid card seems to us absolutely absurd," he said. "We have at least two people check the date on every card."
He said MedMar is currently open for business.