Posted on
Thu, Aug 25, 2011 : 12:06 p.m.
Police raid 2 medical marijuana clinics in Ann Arbor
By AnnArbor.com Staff
A Postal Inspection Service agent and two police officers load boxes into the back of a van parked in the middle of Main Street in Ann Arbor during a police raid of A2 Go Green Co-Op. on Thursday.
Melanie Maxwell I AnnArbor.com
Michigan State Police drug investigators raided 2 medical marijuana dispensaries in Ann Arbor today, but said the raids had nothing to do with a state appeals court ruling Wednesday that prohibits dispensaries from selling marijuana.
Witnesses said 3 people were taken into custody.
Det. 1st Lt. Wynonia Sturdivant of the Livingston and Washtenaw Narcotics Enforcement Team said MedMar clinic at 1818 Packard St. and A2 Go Green Corp at 206 S. Main St. were raided because their employees allegedly failed to follow guidelines established for operating dispensaries. She declined to be more specific.
Sturdivant said both dispensaries have been under investigation for at least a couple of weeks and the raids are not related to each other. She said she did not know what was seized.
"It's an ongoing investigation," she said.
Police officers dressed in black and wearing masks executed a search warrant at MedMar about noon, seizing computers, cash, boxes, plastic bags and other items.
Shortly after noon today, officers executed a search warrant at A2 Go Green Co-op, seizing boxes of files, computers and brown paper bags. U.S. Postal Inspection Service agents were there, but Sturdivant declined to say why the federal agency was involved. A clinic that had previously operated at the same location was robbed last year.
Police vehicles were parked in the middle lane of Main Street for at least 45 minutes.
Chuck Ream, longtime medical marijuana advocate and partner at MedMar, said two of his employees, were taken away in handcuffs about 10:30 a.m. Another employee was arrested later in the morning.
Ream and 3 other people were holding signs promoting medical marijuana and protesting the police action, yelling at the officers who were carrying items out.
The law enforcement action comes one day after the state appeals court ruled medical marijuana sales are illegal.
Attorney General Bill Schuette's office issued a statement Wednesday saying he would send a letter to county prosecutors "explaining that the ruling clearly empowers them to close dispensaries."
A spokeswoman for the attorney general's office today said she wasn't aware of any state directive to raid dispensaries, but in general the office doesn't confirm or deny ongoing investigations.
Ann Arbor Police Chief Barnett Jones said LAWNET informed the city in advance that the two raids were going to be conducted. He said the department's only role was to stand by and provide a uniformed presence as LAWNET conducted the raids.
Jones said he understands there were specific violations of law that attracted LAWNET's attention and it's speculation to say the raids were in reaction to any court ruling. As for the possibility of future raids in Ann Arbor, Jones declined to comment.
"I'm not going to comment because I don't know what the new current law is and I don't know what's going to come up in the future," he said.
Ream said the raid was a disservice to voters who approved making medical marijuana legal in Michigan.
"Our patients are sick," he said. "We need the medicine and we need it now. I really didn't think they'd do this because we have so much support from the voters here."
"What do these patients do now?" he yelled out. "Where do they go?"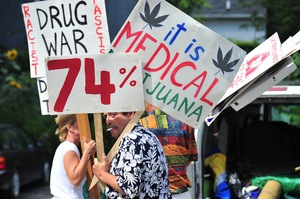 Ryan J. Stanton | AnnArbor.com
K.C. James, manager of the Packard Auto Repair shop next to MedMar, said he never had problems with Ream or Ream's dispensary.
"He's a real nice guy," James said. "I feel bad about what's happened. The state gave him the right to do this and then they just shut him down."
Dan Peoples, manager of A2 Go Green Co-Op, said his shop has been doing everything legally. It was in the process of getting its application with the city completed, he said.
Peoples said the dispensary was closed this morning after the appeals court decision was announced. He said he wanted to get everything worked out with his lawyers before opening up again.
"Our lawyer was talking to the prosecutor," he said. "I guess I shouldn't have shown up today either."
Protesters who had been at the raid on Packard arrived on Main Street and walked over to Om of Medicine at 112 S. Main St., but there was no indication of a raid there as of 1:30 p.m.
Medical marijuana activists said they planned to hold a benefit concert tonight at Live At PJ's at 9 p.m. There will be speakers, including attorneys who will talk about what the appeals court ruling means for users.
Reported by Juliana Keeping, Kyle Feldscher, Ryan Stanton and Lee Higgins.