Posted on
Thu, Mar 18, 2010 : 6 a.m.
Public safety funerals help grieving police officers to go on with our jobs
By Rich Kinsey
Jackson City Police Officer James Bonneau made the ultimate sacrifice for the citizens of Jackson County on March 9, 2010.
His funeral in Canton Township was attended by hundreds of police officers and firefighters from around Michigan, the United States and Canada. A huge American flag was draped across the route to the cemetery for the funeral procession to pass under. The funeral procession consisted of several hundred police cars.
This was a great tribute to a fine young officer who had dedicated his life to protecting the public.

Some may ask why police and fire funerals are such a huge ceremony.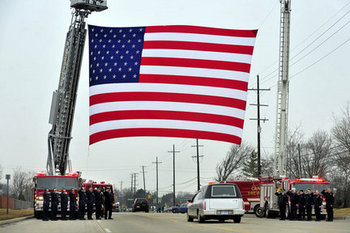 Jeremiah Wilson | Jackson Citizen Patriot
Public Safety Service funerals are a tribute to a fallen brother or sister in law enforcement (or fire service). They are also an expression of gratitude from the entire emergency services "family," as well as the community they served, for the fallen's survivors.
These funerals are an important demonstration and reminder to all that these are dangerous jobs that are valued by our society.
For the officers and firefighters these funerals are poignant, meaningful and necessary.
They remind those in the profession that no matter how hard you train, no matter how careful you think you are being, that fate, evil and bad circumstances can combine with tragic results. In the fallen we see ourselves and from this funeral, take some comfort in the fact that there are so many out there that appreciate what we do. 

The officers and firefighters need these ceremonies to remind each other how much they depend on one another. The funerals are in some way an expression of sorrow and apology to the fallen that we, in the profession, could not get there in time to save them.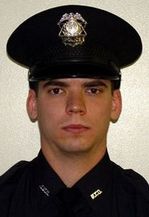 Ours is a profession where seconds count and there is no worse feeling than responding to assist an officer and hearing anguish and tension in their voice on the radio. You will your car to grow wings so you can arrive more quickly to aid the officer in trouble. You make your response as loud and dramatic as you can in hopes that the bad guys will hear it and flee, or more importantly your brother or sister in need can hang on and fight for just a few seconds longer.
In public safety services, those on the front line must know that no matter what is happening, help is on the way as quickly as possible. Without that knowledge it would be almost impossible to function. 

Police and fire funerals are necessary for officers and firefighters to rededicate themselves to protecting each other and the community, no matter what.
After taps has been played, the flag has been folded, the sharp cracks of the ceremonial gun salutes and the "end of watch" radio transmission have faded, and tears and hugs have been traded among family, friends and comrades, it is time for the officers and firefighters who protect us all to get determined, saddle up and hit the streets once again. 

My sincerest thoughts and prayers are with Officer James Bonneau's family, friends and comrades and all those who serve us in uniform. Rest in peace Officer Bonneau your spirit lives in all those who serve. Semper cop.
Rich Kinsey is a retired Ann Arbor police detective sergeant who now blogs about crime and safety for AnnArbor.com.