Saline man accused of lighting his apartment on fire returns to court today
Posted on Thu, Jul 5, 2012 : 5:50 a.m.
The Saline man accused of lighting his apartment's stove on fire in an attempt to burn down the building will return to court for a pretrial hearing Thursday.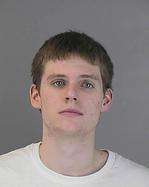 Courtesy of Saline Police Department
Paul Morphew, who was 22 when charged, faces charges of arson of a dwelling or house, arson of personal property between $1,000 and $20,000 and possession or sale of a switchblade, records show. He will be in court at 1:30 p.m. Thursday for a pretrial hearing in front of Washtenaw County Trial Court Judge David Swartz.
Morphew allegedly called Ann Arbor police and reported there was going to be a fire at his apartment. Ann Arbor officials contacted Saline police, who responded to the 200 block of Clark Street and found thick smoke coming from the building.
All four burners on the stove had been lit and papers were burning on top of them, according to police. Firefighters were able to extinguish the blaze.
Mail addressed to Morphew was found at the home. A psychological evaluation took place after Morphew was arrested, according to the police report.
Morphew was given a $25,000 personal recognizance bond when he was arraigned.