Posted on
Wed, Jan 11, 2012 : 5:56 a.m.
Sentencing for son of Inkster mayor delayed one week
By Kyle Feldscher
The sentencing hearing for the son of the mayor of Inkster who pleaded guilty to briefly kidnapping his ex-girlfriend was adjourned for one week on Tuesday.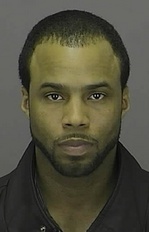 Kwame Hampton, of Westland, was originally charged with one count each of unlawful imprisonment, assault with a dangerous weapon, domestic violence, felony firearm possession, first-degree home invasion, first-degree criminal sexual conduct and third-degree criminal sexual conduct. He pleaded guilty to the unlawful imprisonment, assault with a deadly weapon, domestic violence and felony firearm possession charges in September, according to Heritage Media.
Washtenaw County Trial Court Judge Donald Shelton will sentence Hampton at 1:30 p.m. on Jan. 17.
Hampton, who was 29 when he was charged in April, is the son of Inkster mayor Hilliard Hampton. Heritage Media reported in October he could be sentenced to up to 15 years in prison.
According to Pittsfield Township police, Hampton broke into his ex-girlfriend's home at about 3:30 a.m. April 9 after she refused to come to his house. Police said Hampton entered through an unlocked window in the home's family room, walked to the victim's bedroom and asked her to have sex with him. When she declined, he sexually assaulted her, according to police.
Nine days later, the woman walked outside of her home and saw Hampton getting out of a car. Police said she ran away but Hampton grabbed her and threatened to shoot her if she didn't get into his car.
Hampton drove a short distance and came to a stop sign when the victim attempted to get out. Hampton began beating the woman before she was able to get out of the car and receive help from another driver in the area, police said.
A loaded handgun was found behind Hampton's father's house in Inkster, according to police.
Hampton is not currently lodged at the Washtenaw County Jail, according to jail officials.
Kyle Feldscher covers cops and courts for AnnArbor.com. He can be reached at kylefeldscher@annarbor.com or you can follow him on Twitter.