Posted on
Sat, Jan 19, 2013 : 11 a.m.
Statistics show only break-ins and narcotic offenses on rise in Pittsfield Township
By John Counts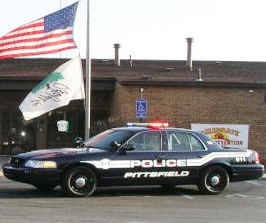 From the Pittsfield Township Department of Public Safety's website
Pittsfield Township was a safer place to be in 2012, according to a year-end crime report.
Numbers were down in nearly all the criminal categories. The only two that saw increases were narcotic-related violations and home invasions.
"Overall … the news is positive," said Pittsfield Township police chief Gordy Schick.
The biggest jump was in drug infractions with a 49 percent increase. There were 275 reported offenses in 2012 compared with 184 in 2011. Home invasions saw an increase of 20.4 percent with 171 reported in 2012 compared to 142 the year before.
Robberies stayed exactly the same with 21 in both years.
There were decreases in all other categories including homicides, sexual assaults, assaults, larcenies, motor vehicle thefts and malicious damage to property, according to the report.
There were no homicides in 2012 compared to one the year before. In 2011, Gregory Noack killed his girlfriend, Dawn Fital, a 45-year-old championship pool player and mother of four in the bed of their Arbor Knoll apartment because she refused sexual contact with him. He eventually pleaded guilty to second-degree murder and was sentenced up to 70 years in prison.
Criminal sexual conduct cases decreased by 10 percent, from 20 to 18. Assaults were down even lower, 28 percent, from 350 to 251.
Larceny incidents decreased 18 percent, from 495 to 405 and motor vehicle thefts saw an 8.7 percent dip, from 69 to 63.
Malicious damage to property cases decreased 21.4 percent, from 238 to 180.
John Counts covers cops and courts for AnnArbor.com. He can be reached at johncounts@annarbor.com or you can follow him on Twitter.