Posted on
Thu, Jun 7, 2012 : 11:52 a.m.
Ypsilanti student accused of making bomb threat at graduation ceremony
By John Counts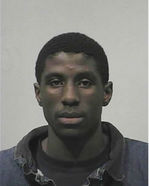 Courtesy of the Washtenaw County Sheriff's Office
Police say an Ypsilanti High School senior and noted basketball player who was having academic problems called in a bomb threat to Tuesday's graduation ceremony.
Tristan Karez Simmons, 18, has been charged with the false report of threat of a bomb or harmful device, a four-year felony, for calling the high school Tuesday morning and saying a bomb would go off at 7 p.m. at Eastern Michigan University's Convocation Center.
That was the time and place set for graduation ceremonies.
"His intent was to postpone the graduation while he tried to clear up some academic issues," said Sgt. Geoff Fox of the Washtenaw County Sheriff's Office.
Police say Simmons, of Inkster, called the high school's secretary twice that morning. The secretary alerted the principal, who contacted police.
The sheriff's office matched up the phone number Simmons used to call the school and make the threats with a number they had on record for him. Simmons was then questioned and charged.
"He's confessed to it," Fox said.
In the meantime, Ypsilanti High School's graduation ceremonies continued as planned.
Ypsilanti schools public relations director Emma Jackson said Tuesday was the first bomb threat the district has received to an off-campus location or related to graduation in her seven years with the district.
Jackson said she did not believe the Ypsilanti High School seniors or their parents were aware of the bomb threat.
"We all showed up and the students graduated," she said. "It went off without a hitch and was another wonderful celebration."
In April, Simmons was named AnnArbor.com's Washtenaw County boys basketball Player of the Year. He averaged 17.2 points and 5.9 rebounds for the Phoenix, who were ranked among the top 10 Class A teams in the state at the end of the regular season.
Simmons was released on a personal recognizance bond pending his next court appearance.
K-12 education reporter Danielle Arndt contributed to this report.
John Counts covers cops and courts for AnnArbor.com. He can be reached at johncounts@annarbor.com or you can follow him on Twitter.