Posted on
Sat, Apr 14, 2012 : 9:57 a.m.
Ypsilanti's Tristan Simmons is Washtenaw County boys basketball Player of the Year
By Michael Florek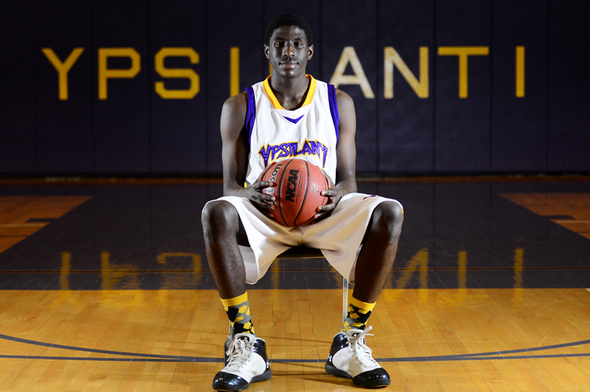 Melanie Maxwell | AnnArbor.com
Tristan Simmons had just arrived at Ypsilanti High School and was already banned from the gym.
Three years later, Ypsilanti coach Steve Brooks can't remember exactly why he did it. Maybe it was because of grades. Whatever it was, Simmons, who transferred to Ypsilanti after spending his freshman year at Pioneer, wasn't allowed to play in the team's summer league games or practice with the team.
So what did he do? Showed up at the gym.
"What are you doing here?" Brooks asked. "You're banned from the gym."
Simmons left. And came back again. And again.
"I just kept coming back, kept coming back," Simmons said.
Eventually, Brooks allowed him to return.
"I think he had forgot," Simmons said.
Coach and player began to have regular talks. It developed into what Simmons called a father/son relationship.
As Simmons grew off the court, the team flourished on it. Ypsilanti lost just 11 games the past three years.
Combining that resiliency and newfound maturity, Simmons averaged 17.2 points and 5.9 rebounds per game as the leader of an Ypsilanti team that was ranked in the top 10 in Class A by the end of the regular season.
He is AnnArbor.com's Washtenaw County boys basketball player of the year.
"It was probably the most gratified I've been as a coach," Brooks said of Simmons' development. "You really see the progress of a kid grow from a teenager into a young man who is ready to take the next step with his life."
"Right now, man, he's probably the most mature kid in our school building."
Simmons, a 6-foot-3-inch guard, scored in double figures in every game this year, something that didn't seem possible last May. For a while, even being on the court didn't seem possible.
Playing in an AAU game last Memorial Day weekend in Saline, Simmons went up for a rebound. His leg twisted as he came down. Initially, the injury didn't seem too serious. He walked off the floor by himself. As Simmons sat, though, he realized something wasn't right.
His leg was broken.
"I was just thinking, 'wow,'" Simmons said. "My senior year was over."
But again, Simmons kept coming back.
The fracture wasn't as bad as anticipated. He missed four months and returned to the Phoenix in time for early fall practices.
Fresh off crutches, running on week ankles, Simmons won every sprint.
"(It) really makes it hard on the other guys," Brooks said. "I'm barking at them saying, 'Hey man, what excuse do you have? This guy has been on crutches all summer.' "
As the season began, effects from the injury lingered. Brooks said Simmons didn't completely return to form until after the Christmas break.
While he didn't miss a game, he had to adjust his approach. Brooks said he went to an "old-man's style." Without his usual explosion, Simmons started pulling up for mid-range jumpers instead of driving to the hoop.
"I think I got slower," Simmons said. "My change of speeds wasn't high, or where it was at before I got injured. It was just bad."
But his shot, the one he honed at the parks as a middle-schooler because he wanted to be selected for pickup games, never left him.
He scored 21 points in the first game of the season, a 32-point win over Pioneer.
Ypsilanti jumped out to a 3-3 record heading into January. As Simmons regained his health and the Phoenix headed into conference play, they didn't lose again until the district finals.
Jeff Sainlar I AnnArbor.com
After the Christmas break he scored 28 points against Dexter, then 29 against Detroit Renaissance, then 23 against Lincoln.
The player who wasn't allowed in the gym was the leader of the team, a role he willingly accepted long ago.
As a junior, Simmons saw just three seniors on his team. Knowing he was a year away from his final season at Ypsilanti, he focused on becoming a leader so he could "know what to do for the next year."
For two years, he made it a focal point every day in practice.
"If people weren't doing what they were supposed to do, I would get on them," Simmons said. "It was the same for them; if they thought I wasn't going as hard, they would get on me. So, it was kind of like a team thing. We didn't let nobody slack off."
Around him, the team came together.
"He really formed a brotherhood … our team was really, really close knit the last couple of years with him there," Brooks said. "He knows when to clown, when to be serious, always first in sprints.
"(He) just really grew and learned how to be a competitor. He was in double figures every game this year but it really transcended from the person he had become."
***
Ypsilanti lost to Temperance Bedford after missing four free throws in the final minute of that Class A district final. Saginaw, a team the Phoenix lost to by one point during the regular season, went on to win the state championship.
Despite the disappointing finish to his high school career, Simmons' basketball career looks promising — even if he doesn't exactly know what it entails.
He's waiting on one more test score, but according to Brooks, a number of mid-major schools have been in contact, including Detroit Mercy, Cleveland State and Central Michigan.
The two also have talked about opting to play at a prep school next season.
Brooks is convinced Simmons will have a future playing basketball. And maybe even as a coach.
"I could even see him coaching it later on," Brooks said. "He's one of those kind of kids where you can make an adjustment for him one time … and you never have to tell him any more."
Whether it happens or not, Simmons shouldn't have any trouble being allowed in the gym.
Michael Florek covers sports for AnnArbor.com. Contact him at michaelflorek@annarbor.com.