Posted on
Sat, Sep 7, 2013 : 5:58 a.m.
Student binge drinking: Are tailgaters drinking more or are we just able to see more of it?
By Kyle Feldscher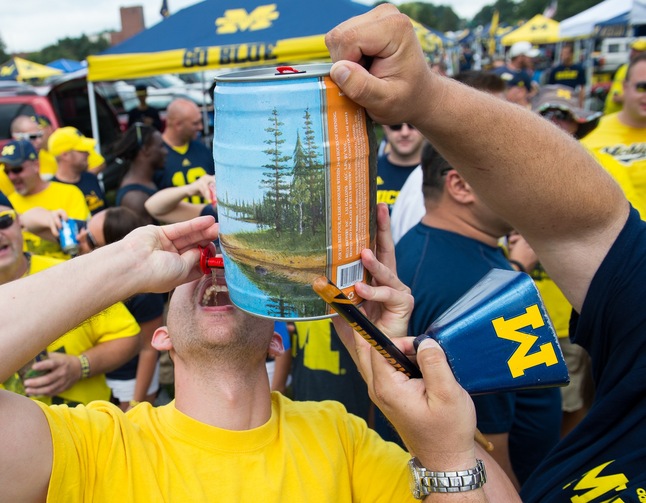 Courtney Sacco | AnnArbor.com
It's noon on the first football Saturday of 2013 in Ann Arbor and Hill Street is alive with the sound of tailgate.
In the 1100 block of Hill, University of Michigan students and other college-aged revelers jam into the yard of a two-story home. The crowd is bouncing with the thumping beat of a techno track that echoes across the neighborhood; it's so loud it'll surely leave most with ringing ears in a few hours.
The air smells like cheap vodka and spilled beer. People dancing on the ledges of the home sometimes struggle to stay on their feet. The Wolverines don't take on Central Michigan University for a few hours.
A family, two children and a mother and father, pose for pictures across Hill with the party in the background. They smile, laugh and marvel at the spectacle.
A Pint Of Perception
With school starting up at the beginning of September — and football season coming just before it — so comes the return of loud, obvious binge drinking on the streets and Twitter accounts of Ann Arbor residents.
But, is it any different now than it was 20 years ago? Statistics say no.
On the national level, binge drinking among college students has been on the decline since 1991, according to the National Institute of Drug Abuse. A survey completed in 2011 shows the proportion of college students who reported having five or more drinks in a row during the last two weeks went from 43 percent in 1991 to 36 percent in 2011.
At the University of Michigan, the numbers only increased slightly. In 1999, 45 percent of U-M students reported binge drinking in the previous two weeks. In 2013, that number was 50.8, but even that is down from a peak of 53.2 percent in 2005.
According to the National Institute on Alcohol Abuse and Alcoholism, four out of five college students drink, and about half of those students report binge drinking in the previous two weeks.
Those are the numbers. But, the perception is definitely changing, said Mary Jo Desprez, the Alcohol and Other Drugs Program coordinator at U-M. A lot of that is thanks to social media.
"It's much more in our face than it was, even in 2007," she said in an interview.
She added, "The ability for those images to go viral and create a perception is worrisome because then it makes it seem more normal, that that is what you do."
In addition, Desprez said, Ann Arbor is unique among many college campuses, in that the city of Ann Arbor and the campus of the University of Michigan are so intermingled. With students and permanent residents living so close together, it becomes very easy to see mass parties like the ones on football Saturdays — and the heavy drinking that comes along with them.
That perception problem is also in place at Eastern Michigan University.
According to 2012 statistics from the CORE Alcohol and Drug Survey in 2012, more than 40 percent of students believed that students use alcohol three times per week. However, the actual percentage of students using alcohol more than three times per week was below 20 percent.
According to the same survey, the percentage of students reporting bingeing in the previous two weeks went down more than 3 percent from 2010 to 2012 — from 33.5 percent to 30.2 percent.
Kathy Walz, a health educator at EMU, said educating students about drinking — how to determine if friends are too drunk, knowing how much alcohol is in a certain drink and showing them that not everyone is getting hammered every weekend — is very important.
"Since we started, we've come a far way in helping them understand that alcohol poisoning is real," she said. "Telling them to 'Drink responsibly', and other media messages, are doing them a disservice, because no one's had that conversation with them."
A Game Under The Lights
Tailgates can be quite the spectacle, such as the one on Hill Street that drew the attention of that Wolverine-fan family last week. With just the second night game in U-M history to be held Saturday night, there are some concerns about alcohol consumption getting out of control during the extended tailgating period.
"It's going to be pretty crazy," said John Burns, U-M sophomore. Notre Dame is a pretty big game and we have a history with Notre Dame. … It's going to be fun for sure."
Most of the problems after the 2011 edition of the Michigan-Notre Dame game — the first to be held under the lights — took place after the game. A large fight was broken up by Ann Arbor police using pepper spray as the bars closed after the game at the corner of South University Avenue and Church Street and a few other assaults took place as well.
According to Ann Arbor police, there were 144 total citations during that edition of the game. Police issued 94 alcohol-related citations and 9 noise citations before the game and another 33 alcohol-related citations and eight noise violations after the game. All of those numbers were much higher than normal home games during the 2011 season.
Throughout the 2012 football season, UMPD gave 61 minor in possession tickets on game weekends, needed 55 ambulance requests or hospital transports and 57 people were kicked out of UM Stadium for having booze. One person received an open container ticket, 26 people were arrested for disorderly conduct, there were seven internal dorm incidents for alcohol, one urination in public ticket and 2 people arrested for going on the field at Michigan Stadium.
On Saturday, there will definitely be enough rowdiness on the streets south and west of campus, on the golf courses and in the Pioneer High School parking lot to go around. But, not everyone is working on making sure they get so blitzed they don't remember half the game.
"There's a significant portion of campus that doesn't drink. They would prefer to be at a dry tailgate," said Michael Proppe, a senior at U-M and student body president.
That's why the Michigan Student Assembly will be holding The Under The Lights Tailgate on Elbel Field, off of Hill Street between Division and Fifth Avenue, Saturday. The student assembly held a similar event before the last night game in 2011 and more than 8,000 students attended. A similar amount of people are expected this time.
The event will give students who don't want to drink a tailgate atmosphere to enjoy without alcohol, and give those who have been drinking a chance to get some free food and water before the game. Proppe said it's an important event.
"The University of Michigan is a pretty diverse campus. Some students prefer to be out at the party and some prefer to be at a dry event," he said. "This gives that option. They don't have to be at the party with alcohol. It does keep the student experience a lot of fun for a lot of students."
Burns said he expects tailgating to be getting going early but with probably some downtime. The most important thing is still the game, he said.
"I know people will be out here at six in the morning, trying to get on TV," he said in an interview near the College GameDay set on Ingalls Mall. "There will probably be some drinking earlier in the day and some downtime to get some food, and then it might start back up before the game."
He added, "There's a chance of that (students getting out of control), but I'm sure people will want to be in control of things. There are smart kids here."
Desprez is hoping students will download the new Stay In The Blue smartphone app to make sure they stay safe on game day and other nights out. The app allows users to track the amount they're drinking while the app gives them an idea of their Blood Alcohol Content, along with other helpful functions to lead to a safe night.
U-M football legend Desmond Howard has done public service announcements in support of the app and Desprez said it's another attempt for educators to be with students in the new mediums where they're spending their time, such as Twitter and Facebook.
"We have to be innovative with how we educate those who are going to choose to drink anyway," she said.
At the end of the day, the thing that matters most to students is that the Wolverines leave the Big House with a win. Burns was a high school senior in 2011 and remembers watching the last night game on TV.
"I'm expecting one of the greatest games I've ever been to," Burns said. "I watched that game, the last time it was under the lights, and in the last minute there was like five touchdowns, so I'm just waiting for, hopefully, something like that. I'm just hoping for a Michigan win."
Education, Alternatives, Prevention
For the most part, college is college wherever you go and it's been like that for decades.
"At any university environment, you are going to have a drinking culture," Walz said about EMU. "We have the biggest incoming freshman class and a lot of those freshman are living on campus. We face the same issues … around alcohol that other universities face."
What's different now is the targeted educated and prevention efforts from departments such as Alcohol and Other Drugs Program at U-M and the University Health Services at EMU.
Desprez and Walz both spoke about the importance of educating freshman during their first days on campus about drinking and sexual assault. Walz said the three groups especially targeted for education efforts at EMU are freshman, athletes and those in the Greek Life system.
"We have to think of practical proactive ways (to engage students)," Walz said. "A lot of times, they don't plan what happens, so we have those conversations and really have to keep it fresh."
For instance, Greek students at EMU go through such steps as role-playing scenarios when they might have to take care of a friend who is too drunk.
Desprez said the field of educating students about the risks of binge drinking in college has been taking great steps in recent years, aided by a federal law that requires an alcohol and other drugs program and policy at every school.
With that many universities turning out data, it's allowing people like Desprez to figure out what works and what doesn't work for each campus population.
For the most part, drinking and driving isn't a big problem at U-M, she said. So, "putting a crashed car on The Diag doesn't do anything," she said.
"All we try to do is put lots of things in place that have shown some evidence of being helpful," she added.
Among those programs are the required online course about alcohol and sexual assault issues, the Beyond the Diag program and dry events such as Escapade during Welcome Week, which 5,000 students attended, and the UMix event on Friday nights that averages 1,000 attendees.
While university officials are working hard to educate students on alcohol's effect on their life, sometimes the best regulator of student behavior is when classes start and the schoolwork comes, she said.
"The intensity and rigor has a moderating effect," Desprez said. "U-M students care about their academics and about maintaining a really good academic profile."
"There's a very small percentage (of students) who can party hard and study hard persistently, but most people have to figure out how to calibrate."
Kyle Feldscher covers cops and courts for AnnArbor.com. He can be reached at kylefeldscher@annarbor.com or you can follow him on Twitter.