Posted on
Mon, Feb 25, 2013 : 3:30 p.m.
Woman accused of setting man up in armed robbery pleads no contest
By John Counts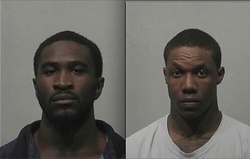 Courtesy of the Washtenaw County Sheriff's Office
The 23-year-old Ypsilanti Township woman accused of setting up a man to be robbed outside an apartment complex last summer pleaded no contest to two robbery charges in the Washtenaw County Trial Court Thursday.
Amber Marie Davis, 23, pleaded no contest to two added charges of unarmed robbery and conspiracy to commit unarmed robbery in exchange for the dismissal of armed robbery, conspiracy to commit armed robbery and possession of a firearm during the commission of a felony charge.
The plea agreement calls for Judge David Swartz to sentence Davis to 1 to 2 years in prison. Davis is scheduled to be sentenced March 28.
The agreement came about because of Davis' assistance in the case, according to attorneys.
"She has been cooperative," said Assistant Washtenaw County Prosecutor Blake Hatlem.
Davis was the third and last defendant to reach a plea deal in a case involving the armed robbery of a man outside an Ypsilanti Township apartment complex last September.
Deandre Mitchell, 20, of Belleville, was sentenced 5-20 years for armed robbery in November. Eddie Nailor, 20, of Ypsilanti, was sentenced Feb. 14 to 42-81 months in prison after pleading no contest to an armed robbery charge in January, according to court records.
Police said Mitchell and Nailor robbed a man outside Lakeshore Apartments in Ypsilanti Township early on Sept. 14 after the man went to the complex to see Davis. The man went to Davis' apartment and then went to see his friend, but Davis called him a short time later and told him to come back to her place, police said.
Mitchell and Nailor then robbed the man at gunpoint outside the complex and fled.
The two men were later arrested inside Davis' apartment when police went to question her about the incident.
Davis was arraigned on charges a little more than a week after Nailor and Mitchell were taken into custody. An investigation revealed Davis called the man who was robbed and lured him to the location where he was confronted by the two men, police said.
The Washtenaw County Jail did not have a booking picture of Davis.
John Counts covers cops and courts for AnnArbor.com. He can be reached at johncounts@annarbor.com or you can follow him on Twitter.