U-M police seek assailant after man punched on golf course
Posted on Mon, Sep 10, 2012 : 4:30 p.m.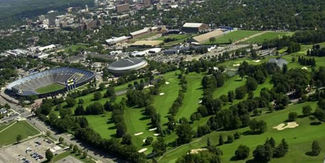 Photos courtesy of a2zoom

A man was punched in the face Saturday on the University of Michigan Golf Course before the football game against Air Force, according to police.

Investigators are now searching for the alleged assailant.

University of Michigan police reported the man was punched in the face between 2:30 and 3 p.m. Saturday while walking on the golf course. The assailant was with three other people who were taunting the victim's friend before the incident, according to police.

The man sought medical attention and was treated for his injuries.

The suspect is a white man, 6-feet tall, 20-25 years old with short hair, police stated.

Anyone with information on this incident is encouraged to call the University of Michigan Department of Public Safety at 734-763-1131.