Posted on
Mon, Jan 14, 2013 : 6:14 p.m.
U-M police release video, image of man believed to have sexually assaulted student
By Kyle Feldscher
The University of Michigan Police Department released two video clips and a still image of a man they believe sexually assaulted a student early Sunday morning at the West Quadrangle residence hall.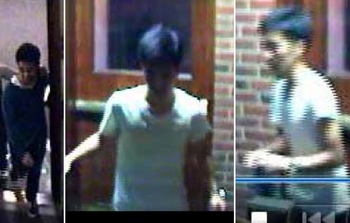 Courtesy of U-M Police
One video clip shows the man approaching a door to leave the residence hall, pushing against it and being denied, turning around to face the camera and walking away. The second clip shows the man walking down the flight of stairs near the same door.
According to police, the man walked a female student back to West Quad before sexually assaulting her in a common area on the lower level. Police said the assault happened between 12:45 and 1:30 a.m. Sunday.
The man and woman met each other at an off-campus party earlier in the evening, according to police.
He's described as Asian, college-age, between 5-feet-6 and 5-feet-8 inches tall, thin, with black hair and as wearing a royal blue top over a white T-shirt and black pants.
Anyone with information on the suspect is encouraged to call the Univeristy of Michigan Police Department at 734-763-1131.
To view the video clips, click here.