Posted on
Thu, Sep 8, 2011 : 5:50 a.m.
Vada Murray did police work the right way - from the heart
By Rich Kinsey
He was some sort of anomaly when I first met this guy. He was a University of Michigan student who was doing a ride-a-long on the afternoon shift.
That is rather rare for U-M student to do ride-a-long with the police. Michigan State students, Eastern, Washtenaw, Ferris State even Northern Michigan University students do ride-a-longs with the police, but not as a rule U-M students. Those other schools have criminal justice programs. Hmm … a Michigan student doing a ride-a-long.
Somebody else told me this guy was a U-M football player and pretty good. I could see why. He was 6'3" and about 5 feet of that seemed to be legs. He arrived neatly dressed, sporting a tan Member's Only jacket, and early for his shift. He was quiet and seemed shy but very polite. He had this Aztec sort of intense face until you started to kid him and then this huge explosive smile would take over his face.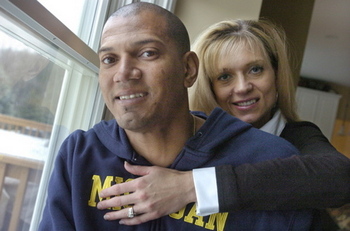 Next thing you know this
Vada Murray
guy is doing a lot of ride-a-longs. Did I mention that he was a University of Michigan student and football player? Wow, while other students are out partying in the streets doing the "Solo cup shuffle" -- that is quickly putting the red or blue Solo cup full of beer next to their thigh on the side away from the police car and trying to walk naturally avoiding eye contact with the cop (yes we see it but unless you do something stupid like drop it and litter, we are heading to a call) -- this guy was doing ride-a-longs.
Not only that, but Vada was making a name for himself with the shift. Several times he surprised older veterans he was riding with by bailing out of the car and giving chase to speedy young criminals.
The officers who started chases swear Vada was on the other side of the police car or down the block when the chase started. Suddenly while huffing and puffing after a young hoodlum the cops reported they would see this tan flash (the Member's Only jacket) blaze past them and snatch up the fleeing hoodlum, by the scruff of the neck.
When the still huffing and puffing officer finally focused on the blur (after it stopped and was walking back) it was Vada with that huge smile. This guy was something special and he wanted to be a cop. We had to have this guy on our department!
So the police career of Vada Murray began. Vada did police work the right way -- from the heart. He loved being a cop and when you love what you do for a living, as they say, you never work a day in your life. His love of the new "game" he had found showed immediately.
Vada was always intense and compassionate when he worked the streets. I was working in the detective division by then, but I read all the reports and I could tell when someone loved being a cop. They always seem to be in the right place at the right time. They make their own "luck."
Vada made his own "luck" and along the way became respected by his brothers and sisters in blue as well as the community. Vada would often look for information in the detective bureau. He gave detectives a lot of information and intelligence from his sources, proof he was respected by the community.

It was always great to see him saunter down through the detective bureau -- usually in a suit on his way to court because he worked nights.
Vada knew I graduated from Michigan State and would some years even buoy my spirits by telling me, "I don't know Rich, your team looks pretty good this year." When Michigan would win the October rivalry he was humble and polite with only a small grin -- not the huge smile.
When he was assigned to the detective bureau after his diagnosis of lung cancer he knocked on my door and wanted to talk one day. He had heard that my mother had lung cancer and wondered how she was doing. I told him what a tough German-Irish Michigan State grad my mom was and that she was doing well. My mom's story and fight -- she and my dad just celebrated their 64th anniversary last Saturday-- actually caused Vada to flash that smile. Vada was going to fight cancer and he told me so in optimistic colorful terms -- not suitable for this family news outlet.
Unfortunately this fine man, this fine officer's fight with lung cancer ended on April 6th of this year. Vada Murray was 43 years old and left his wife, Sarah, and their three children.
To honor Vada's memory and continue his fight against lung cancer, Sarah established The Vada Murray Fund For Cancer Research whose motto is: Fight Hard-Stay Tough-Never Give Up.
The kickoff fundraiser will be a lunch and silent auction open to the public held this Sunday Sept. 11, from 11 a.m.-4 p.m. at the U-M North Campus Research Complex (Old Pfizer Building), 2800 Plymouth Road, Ann Arbor. Tickets for the event are $10/person and $30 for a family of four (and $10 for each additional person). For more information go to: www.vadamurray.com.
Rest in peace Vada, your brothers and sisters are backing Sarah up on this fight!
Lock it up, don't leave it unattended, be aware and watch out for your neighbors.
Rich Kinsey is a retired Ann Arbor police detective sergeant who now blogs about crime and safety for AnnArbor.com. He also serves as the Crime Stoppers coordinator for Washtenaw County.