Posted on
Sat, May 12, 2012 : 12:21 p.m.
West Willow sexual assault suspect charged with 13 crimes
By Paula Gardner
Related story: West Willow residents take to the streets after shocking sexual assaults
The 26-year-old man arrested in connection with multiple sexual attacks on girls in West Willow last week was charged Saturday morning with 13 crimes stemming from those incidents and one from April.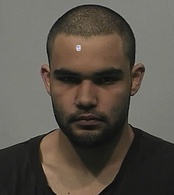 Daniel Jackson - who police said has a history of sexual offenses - was charged during his arraignment in the Washtenaw County jail with:
4 counts of unlawful imprisonment
6 counts of criminal sexual conduct 2nd degree
2 counts of criminal sexual conduct 4th degree
1 count of Interfering with a crime report
He's now being held on a $500,000 bond.
Jackson was arrested Thursday, one day after three girls told police they were assaulted while on their way to school.
From a previous AnnArbor.com story:
A 17-year-old girl was approached from behind by a man who had ridden past her on a bike as she was walking to her school bus stop about 7 a.m. Wednesday near Chevrolet Street and Studebaker Avenue. The man put his hand over her mouth to prevent her from screaming and used his other hand to grope her crotch, letting her go when she bit his hand and ran back to her nearby home.
While deputies were in the area investigating that report, an 11-year-old girl approached police. Jackson said that girl reported a man matching the description of the bicyclist had approached her and groped her chest area before fleeing.
While talking to the girls, investigators received another call from dispatch notifying them of the kidnapping attempt of a different 11-year-old girl by a man matching the same description.
Saturday's charges also incorporate a previous attack nearby at McCartney and State.
Jackson was apprehended after Washtenaw County Sheriff's Office investigators circulated an image taken from security cameras posted in the West Willow neighborhood.
In addition, detectives are investigating another attack: The unidentified female was assaulted in the Sugarbrook neighborhood on May 9th. Anyone with information about this incident is asked to contact Detective Everette Robbins at 734-973-4884.
Records from Michigan's Department of Corrections indicates that Jackson's background includes convictions for assaulting a police officer in 2008 and an incident of 4th degree criminal sexual conduct in 2006. Sheriff's officials also said he's been a window peeper.
He appears to have served about 18 months in prison on previous crimes.