Posted on
Sun, May 5, 2013 : 1 p.m.
Woman charged with killing her father returns to court Tuesday
By Kyle Feldscher
The woman accused of stabbing her father to death last year will return to court Tuesday for a hearing, records show.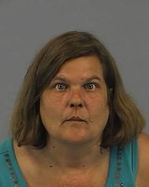 Courtesy of the Washtenaw County Sheriff's Office
Susan Wade, 49, is charged with one count of open murder in the death of her 86-year-old father, Ronald Mason. Wade has been held in police custody without bond since she was arrested on June 9, 2012.
Records show she's scheduled to be in court for a final pretrial hearing at 1:30 p.m. Tuesday in front of Washtenaw County Trial Court Judge Donald Shelton. It's the last hearing scheduled before Wade's trial date of June 3.
According to police, Wade stabbed and killed Mason on June 9, 2012, in their home in the 1700 block of Covington Drive in Ann Arbor. Mason was stabbed multiple times while he slept in his bed and again later when Wade believed she saw him moving, according to police.
Wade has a past history of drug abuse and schizophrenia, according to her family. She's been declared competent to stand trial.
Kyle Feldscher covers cops and courts for AnnArbor.com. He can be reached at kylefeldscher@annarbor.com or you can follow him on Twitter.