Posted on
Wed, May 8, 2013 : 2:59 p.m.
Attorneys for woman accused of killing her father plan to argue she was insane
By Kyle Feldscher
Records filed Wednesday in the Washtenaw County Trial Court show attorneys defending Susan Wade, who is charged with killing her father last June in Ann Arbor, plan to argue she is not guilty by reason of insanity.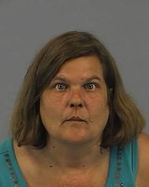 Courtesy of the Washtenaw County Sheriff's Office
According to a witness list filed Wednesday, the
Washtenaw County Public Defender's Office
plans to call Dr.
Phillip Margolis
, professor emeritus of psychiatry at the
University of Michigan
, as a witness. Margolis did a report that disagrees with the state's forensic center analysis ruling Wade is competent to stand trial, according to records.
"The People are already in possession of Dr. Margolis's report which opines that Ms. Wade was legally insane at the time of the alleged crime," the document states.
Wade, 49, is accused of stabbing her father, Ronald Mason, between 20 and 30 times on June 9, 2012, at their home in the 1700 block of Covington Drive in Ann Arbor. Police said Wade stabbed Mason multiple times while he slept and then returned hours later when she thought she saw him moving and continued the attack. Mason was 86 years old.
She's been declared competent to stand trial, but family members said she has a past history of drug abuse and schizophrenia.
Wade was in court for a final pretrial hearing Tuesday, which was adjourned for one week. Her trial is scheduled to begin at 8:30 a.m. June 3.
The document filed by the public defender's office shows Margolis will be called to testify about his report. Dr. Henry Emerle, senior psychiatric resident at U-M, may also be called to testify about "observations made or conversations had during the course of Dr. Margolis's evaluation," according to court records.
Wade is facing life in prison if she is convicted on one charge of open murder. She's being held in the Washtenaw County Jail without bond.
Kyle Feldscher covers cops and courts for AnnArbor.com. He can be reached at kylefeldscher@annarbor.com or you can follow him on Twitter.