Posted on
Tue, Sep 4, 2012 : 5:30 p.m.
Ypsilanti Township man gets 2 years probation for stabbing man who came at him 'like Bruce Lee'
By John Counts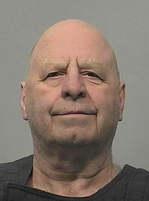 A 68-year-old
Ypsilanti Township
resident was sentenced Tuesday to serve two years of probation and pay more than $8,000 in restitution to the victim in a May stabbing incident.
Earl Stegall pleaded no contest to charges of assault with a dangerous weapon and possession of a switchblade in June.
Details of the stabbing incident were revealed Tuesday in Judge Donald Shelton's courtroom in the Washtenaw County Trial Court. Tensions between Stegall and the victim had been brewing long before the fight, Stegall said. He told Shelton the victim and a few of his friends tried to jump him a few years ago.
Then on May 16, Stegall took a woman, his second cousin, grocery shopping. When they arrived outside her place of residence on Bagley Avenue in Ypsilanti Township, the male victim was waiting for them, Stegall said.
"He came at me like Bruce Lee, the Kung Fu fighter," Stegall said. "He hit me in the jaw and knocked off my hat and sunglasses."
Stegall said he used his "letter opener" to protect himself.
When Shelton first asked Stegall if he had anything to say before sentencing, Stegall only said, "I hold no animosities."
"You probably shouldn't after stabbing him three times," Shelton responded.
The victim, 63, suffered a 10-inch cut in the belly and was also injured on his arm and ankle. He appeared in court, but did not wish to address the judge.
Stegall's attorney Daniel Geherin said his client is an Army veteran who suffers from post traumatic stress disorder and is on medications for mental health-related issues.
Assistant Washtenaw County Prosecutor Blaine Longsworth pushed for a stiffer sentence of six months in jail.
"This was a violent assault," he said.
Shelton decided on probation and $8,361 in restitution. Stegall was also ordered not to have any contact with the victim.
"I'm not sure what's really going on here, but it needs to stop now," Shelton said.
John Counts covers cops and courts for AnnArbor.com. He can be reached at johncounts@annarbor.com or you can follow him on Twitter.