Posted on
Wed, Apr 14, 2010 : 10:37 p.m.
Ann Arbor custodians to take pay cuts if district outsources jobs
By David Jesse
Ann Arbor school district custodians would take a pay cut of between $2 per hour to $6 per hour if the district decides to outsource its custodial work, district administrators said tonight.
Administrators are recommending outsourcing the district's custodial and maintenance services unless they can reach an agreement with the custodians by the board's April 28 meeting.
The board would be asked to give the custodial contract to GCA Services of Downer's Grove, Ill., and the maintenance contract to GLES. Combined, the district hopes to get more than $2 million a year in savings from the move.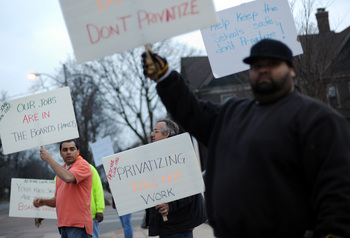 Board members - led by Susan Baskett and Simone Lightfoot - grilled Randy Trent, the district's executive director of physical properties, over the details of the two recommended bids.
Board members paid special attention to the wage and benefit packages offered by the companies. Both companies have said they'll hire current district employees who wish to switch over.
In addition to wage cuts, both companies would reduce the amount of hours workers are paid for. Neither company would offer any paid time off for their workers, meaning if a worker didn't work a day, he or she wouldn't get paid.
GCA would pay a custodian for 240 days of work. The district currently pays for 260 days of work, which also includes paid sick days and paid vacation.
Lightfoot pointed out that under the maintenance terms, a person currently making about $45,000 a year would be reduced to around $30,000 a year.
In addition, under both companies, the cost to an employee for insurance coverage would almost double, from about $560 a year now to about $1,000 a year, Trent said.
The board didn't vote on the bids tonight. District administrators said they continue to negotiate with the current union to see if they can find similar savings.
The district is facing a projected $20 million budget deficit in the 2010-11 school year.
David Jesse covers K-12 education for AnnArbor.com. He can be reached at davidjesse@annarbor.com or at 734-623-2534.