Posted on
Mon, Jan 9, 2012 : 3:53 p.m.
Dachshund pup found shivering in the cold finds home with rescue group
By Cindy Heflin
The tiny, very cute Dachshund puppy Mike Jennings rescued from an Ann Arbor parking lot last week has gone to a safe home with a Dachshund rescue organization in southeast Michigan.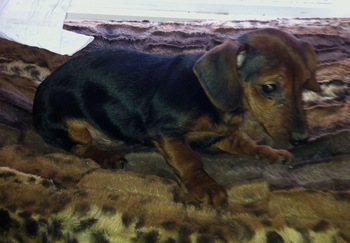 Photo courtesy of Mike Jennings
The person who abandoned the pup in the parking lot outside the apartment complex in Ann Arbor where Jennings works never came forward. Other people did contact him to say they would take the pup, but Jennings decided the rescue organization was a better option.
"I wouldn't give him up to someone I don't know," he said. "He was always happy when he was with me. But I just don't have the time to train a puppy right now."
The rescue organization, FunDoxie Dachshund Rescue, will keep him and train him for several months before trying to place him with an appropriate home, Jennings said.
Someone walking by pointed the pup out to Jennings last week outside the apartment complex on Catherine Street where he works. The puppy was curled up in a ball and shivering in the snow.
Once he warmed up, the puppy appeared to be in good health and was eating puppy chow well while he stayed with Jennings' mother last week. Jennings' veterinarian, who confirmed the pup was healthy, determined he didn't have a microchip, which would have allowed Jennings to find his owner.
"In the end it's probably better that his owners didn't come forward because they obviously don't want him at this point."