Posted on
Thu, Jun 13, 2013 : 9:50 a.m.
Darren Criss fans line Liberty Street Thursday morning for free Sonic Lunch concert
By Chelsea Hoedl
Fans of Darren Criss lined up against building fronts, ducking under awnings and umbrellas outside of the Michigan Theater Thursday morning. Those dedicated enough to get out of bed in the early hours of the morning and stand in the rain waited to get one of the remaining 450 free wristbands that grant entrance to the Darren Criss concert being put on by Sonic Lunch at 11:30 a.m.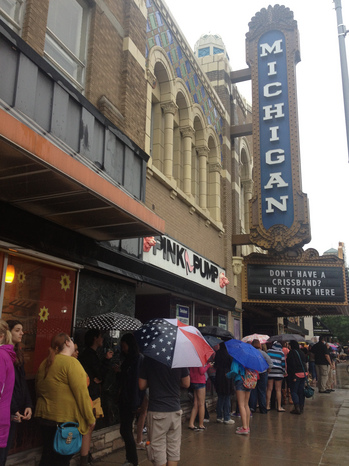 Chelsea Hoedl I AnnArbor.com
"It's a big crowd, but this is what we expected," said Rhonda Foxworth, vice president of marketing for Bank of Ann Arbor, which sponsors the free concert series. "It's exciting to see them all here waiting in the rain."
The line of fans waiting was nearly a block long, stopping just before hitting the corner of Liberty and Division.
"Not everyone will get in," Foxworth said. "That's the hardest part for us. We can't let everyone in that wanted to come because the venue just won't allow for it, but it's really fun that we can do this for free."
At the front of the line to get wristbands, protected from the rain by the theater's marquee, was recent high school graduate Sydney Johnston and junior Analiese Puzon from Gaylord.
"The whole trip took me eight hours," Johnston said. "I was at college orientation yesterday at Grand Valley and so I had to drive all the way back to Gaylord and then down here, but it was worth it."
The girls arrived to camp out Wednesday night, but were not allowed to line up until morning, so they sat in their car at a parking meter across the street.
"We didn't ever actually sleep," Johnston said. "If we saw people coming we would jump out to make sure we would have the first spot in line."
Toward the back of the line was Denise Michaels and her kids from West Bloomfield who arrived at 6:30 a.m. The group accidentally joined the wrong line, gathering with those already lucky enough to have wristbands, but hoping for a front-row seat.
After 45 minutes of waiting, they realized they were in the wrong place, Michaels said.
"I really hope we get in," Michaels said. "If we don't, we're going to Angelo's, although I think there might be a big line there too."
Lined up to the right of the box office, down Liberty toward State Street were people already wearing one of the 1,000 wristbands handed out before the concert date. Avid fan of Darren Criss and the U-M-born Team StarKid Stephanie Axberg stood at the front of this line, which she began waiting in at 5 a.m.
"A week and a half ago they announced on 107.1 that Bank of Ann Arbor was handing out wristbands. I left work to get one and now I'm lucky enough to be here," Axberg said.
Axberg explains that she came early even though she had a wristband because she wanted to get as close as possible.
In line with Axberg were three fellow StarKid fans Axberg met in a fan group on Facebook.
"I let six people I met in the group spend the night at my place," Axberg said. "I'm from Ypsilanti and when I heard there were four people coming from Grand Rapids and two from Sheboygan I said they could stay with me. The starkids fandom has given me so much happiness that I don't mind giving back."
After the death of her mother a year and a half ago, Axberg said a StarKid video was the first thing that was able to make her laugh again. For that reason, she said her connection with StarKid and their fans is personal.
"I think StarKids fandom will always love Darren Criss because of where he came from as a StarKid even though he's moved on to bigger things," Axberg said. "We'll always love him and support him."
As wristbands started to be distributed around 7:30 a.m., the line of those waiting for tickets joined the line of those waiting for seats. After all of the remaining bands were given out, the line of those waiting to get in to the theater wrapped from the entrance, down Liberty, down State Street, and around the corner down Washington Street.
"People are staying around for the chance that they might be let in even after wristbands are out," Foxworth said. "That's dedication."