Posted on
Tue, Dec 4, 2012 : 10:28 a.m.
Daycroft Montessori School launches pajama donation drive; Holiday lights bike ride set for Dec. 17
By AnnArbor.com Staff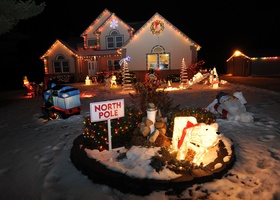 AnnArbor.com | Lon Horwedel
From a local school hosting a pajama and book drive for the needy to a holiday lights bicycle ride in Ypsilanti, here's a roundup of some of the stories posted on AnnArbor.com's Community Wall over the past few days:
By: Chris Kochmanski: Daycroft Montessori School of Ann Arbor Invites All in the Community to Join Them in Donating Pajamas to the Area's Needy
Want to provide a needy child with some bedtime comfort and fun? Give the gift of warm pajamas and a good book.
By: Bob Krzewinski: Ypsilanti Holiday Lights Bicycle Ride
A fairly short ride (8-10 miles) through quiet Ypsilanti residential neighborhoods to take view Christmas light displays from your bike (will be followed by) socializing afterward at the Corner Brewery.
By: Southern Michigan Railroad Society: Ride the Rails with Mark Twain
By: Ann Arbor Delcaration: Ann Arbor Declaration: Higher Education is Not a Luxury, Obama declared
By: Dennis Rice: Notice of Annual Meeting and Election of Directors: Washtenaw County Conservation District
By: David Hallenback: Wild Game Dinner at Lincoln Bowmen Archery Club
AnnArbor.com's Community Wall is a spot for local people to post local stories, news and announcements. To post a story, sign in to AnnArbor.com, then go to www.annarbor.com/community and use the Got News? Tell Us function at the top to submit your news. If you have a photo to add, e-mail it to us at community@annarbor.com, and we'll insert it into your story.