Posted on
Tue, Mar 27, 2012 : 11:08 a.m.
DDA to put $2K toward combating graffiti in downtown Ann Arbor this year
By Ryan J. Stanton
The Ann Arbor Downtown Development Authority announced on Tuesday it will put $2,500 into a fund to combat the city's nagging graffiti problem this year.
That continues the DDA's annual efforts to subsidize the cost of graffiti removal products for downtown businesses and building owners.
The DDA put $2,000 toward the program in 2011, which was down from the $5,000 the DDA provided in 2010.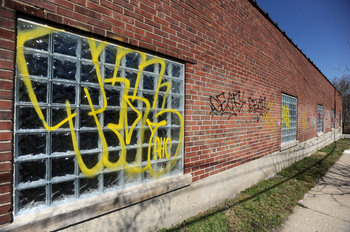 Angela J. Cesere | AnnArbor.com
"We all benefit when graffiti blight is removed quickly, and DDA grant funds have had the effect of improving downtown aesthetics without placing an additional burden on downtown businesses who are in fact the victims of graffitists tagging their property," said DDA Executive Director
Susan Pollay
, saying that's a large impact with a relatively small investment.
The grant program works in partnership with Anderson Paint and Fingerle Lumber. DDA officials say both companies have been strong supporters of downtown.
Downtown building or business owners who find their buildings or signs tagged with graffiti can visit either Anderson or Fingerle to obtain free anti-graffiti supplies.
Anderson Paint, 2386 W. Stadium Blvd., can be reached at 734-995-4411, while Fingerle Lumber, 617 S. Fifth Ave., can be reached at 734-663-0581.
In addition to offering paint remover and other supplies, Anderson and Fingerle are able to offer expert advice on the best way to address the damage, which is important because many downtown buildings are historic and require special attention, DDA officials said.
At the end of each month, the DDA reimburses the companies for the cost of the products they've dispensed.
The city's graffiti ordinance requires property owners to remove graffiti on private property within seven to nine days after being notified in order to combat tagging, which is a nuisance crime that officials say works against the sense of safety and security.
Residents have several options for reporting graffiti, including calling the community standards unit of the Ann Arbor Police Department at (734) 794-6942 or e-mailing complaints to communitystandards@a2gov.org. They also can submit a complaint online.
Ryan J. Stanton covers government and politics for AnnArbor.com. Reach him at ryanstanton@annarbor.com or 734-623-2529. You also can follow him on Twitter or subscribe to AnnArbor.com's email newsletters.