Posted on
Tue, Dec 21, 2010 : 6:04 a.m.
Debate continues over local speed limits at Ann Arbor City Council meeting
By Ryan J. Stanton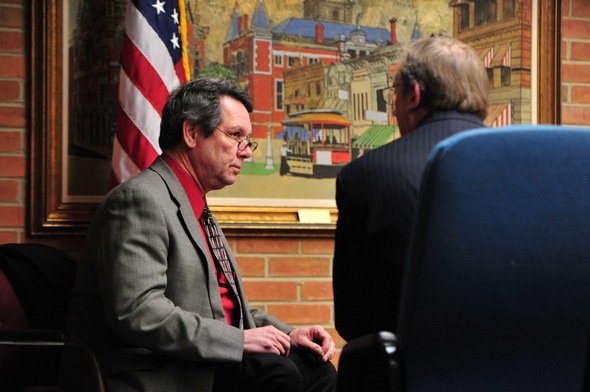 Ryan J. Stanton | AnnArbor.com
As motor vehicle speeds increase from 20 to 30 to 40 mph, the likelihood of death for a pedestrian struck by a vehicle goes up from 5 to 45 to 85 percent.
Those were among the statistics cited by members of the Washtenaw Bicycling and Walking Coalition Monday night during an emotional debate over the issue of speed limits before the Ann Arbor City Council. The group argued speed limit increases on Ann Arbor streets could increase the number of pedestrians seriously injured or killed.
Jeff Gaynor, a teacher at Clague Middle School and a member of the Safe Routes to School Coalition, said he recently showed his students a video about the ancient Aztecs.
"The students were quite horrified by the idea of ritual sacrifice," he said. "And when we look at our priorities in America, we sacrifice over 40,000 people a year to our god the automobile."
On the advice of the city attorney's office, the City Council voted 11-0 Monday night to readopt sections of the Michigan Vehicle Code that it rejected two years ago — specifically those dealing with how speed limits should be set.
The ordinance changes also include adopting the Michigan Uniform Traffic Code. That will allow the city's traffic engineers to conduct studies to justify setting speed limits at levels that might differ from the Michigan Vehicle Code's access-point formula.
The changes will put the city in a better position to defend its speed limits in court, said Robert West, senior assistant city attorney. He acknowledged it also likely will result in raising speed limits on certain roads where motorists have complained for years about speed traps.
Monday's vote was expected to be the final say on the issue. But because of minor changes in the ordinance language during the meeting, City Attorney Stephen Postema recommended the council hold another reading of the ordinance and give final approval on Jan. 3.
The city's move to better comply with state law on how speed limits are set comes after multiple legal challenges and the threat of a class-action lawsuit.
Attorney Tom Wieder and Jim Walker of the National Motorists Association appeared before the City Council Monday night. Their opinion has been that the city can't pick and choose which portions of the Michigan Vehicle Code it wants to adopt or reject, and that local rules concerning speed limits can't legally override state statute.
"I think you have to deal with the fact that you're not in compliance with state law right now," Wieder told council members, hinting at the threat of a more thorough and comprehensive legal challenge to the city's speed limits if it didn't take action.
The Michigan Vehicle Code offers a vehicle access-point formula as the primary means for setting speed limits. It requires cities to measure the number of driveways and intersections along a half-mile stretch of road. The fewer access points, the higher the speed limit.
In 2008, city officials cited difficulties applying the formula, as well as concerns that it could result in speed limits being dramatically increased. And so the City Council passed a resolution that rescinded its adoption of sections of the Michigan Vehicle Code that dealt with speed limits.
Since that time, the Ann Arbor Police Department has been writing speeding tickets using provisions of the city code, an approach that has come under legal challenge.
In addition to the access-point formula, state law gives cities other options. One is conducting traffic studies and setting the limit at the 85th percentile speed of free-flowing traffic — an approach that is espoused by the Michigan State Police.
But Ann Arbor officials don't think either method is always reliable, and they want the city's traffic engineers to be able to study local streets and determine limits they think are appropriate.
West acknowledged the ordinance change is an attempt by the city to get back in step with state law, while also continuing to conduct its own traffic studies to justify setting speed limits that might vary from those determined by the vehicle code's formula.
"I don't see anything in the Michigan Vehicle Code that precludes us from being able to apply a different sort of engineering study," he said, adding there's no clear mandate that cities must set speed limits based on the 85th percentile speed.
"I just don't see that in there," he said. "Indeed, there's a specific provision in Section 627 that indicates 'nothing in this section shall be construed to deny local communities from conducting a traffic study.' It doesn't say if they can utilize it. But as a basic principle of statutory construction, the Legislature didn't put that language in there for nothing."
Noting that's never been litigated to the Michigan Court of Appeals, he said it's his opinion the city is not constrained to using just the access-point formula or the 85th percentile rule.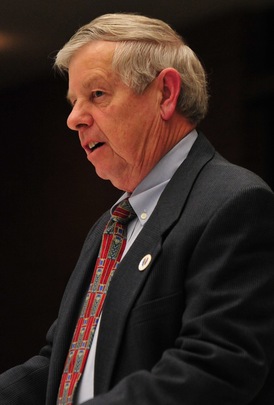 Ryan J. Stanton | AnnArbor.com
The enforceability of the city's speed limits was challenged by Walker and another resident two years ago. Both men won their cases in court and had their speeding tickets thrown out.
AnnArbor.com has learned the city more recently lost another case — one involving Scio Township resident Mike Weikle, who was ticketed for driving over the limit on Huron River Drive in October 2009. Weikle was driving over 50 mph, but was cited for doing 40 in a 35.
Weikle argued the city's 35 mph speed limit was improper because it was not set according to the state's vehicle access-point formula.
The city answered that the Michigan Vehicle Code allows local governments to reduce speed limits on local roadways adjacent to park land to as low as 25 mph. District Judge Chris Easthope ruled that since the city had rescinded its earlier adoption of certain sections of the Michigan Vehicle Code, it could not rely on that authority for lowering the speed limit.
"Judge Easthope ruled that the city's speed limits did not comply with state law … and that the city basically could not adopt its own limits outside of the Motor Vehicle Code recommendations," said Weikle, who is an attorney licensed in Ohio. "So the city already did lose on that, and the city didn't appeal. They did try to rewrite the ticket under another section of the law, and Judge Easthope threw that out, too."
West considers that another good reason for readopting the Michigan Vehicle Code in its entirety. After that, he said, the next time Weikle is stopped for traveling 51 mph on Huron River Drive, he will get four points on his Michigan driving record.
But until that happens, "They've got a precedent out there that says their speeding tickets are illegal, basically," Weikle said.
Weikle said the interesting part is that Easthope was on the Ann Arbor City Council two years ago when the city decided to toss out those sections of the Michigan Vehicle Code.
"Before he ruled on the case, because of his involvement, he offered to recuse himself, but neither the city nor myself felt that was necessary," Weikle said. "He just looked at it on the basis of the law, and there was no bias in his ruling whatsoever."
City officials have indicated the city's speed limits could increase on multiple roads if new traffic and engineering studies are done. The Washtenaw Bicycling and Walking Coalition is urging the city to take special measures to ensure safety for all road users if that happens.
Two of the group's board members, Erica Briggs and Joel Batterman, sent a letter to the mayor and council members prior to Monday's meeting. They're asking that the city work with the Michigan Municipal League and other cities to seek reforms to the Michigan Vehicle Code and its "one-size-fits-all formula" for setting speed limits on local roads.
They say the "narrow scope of the formula" excludes consideration of road users other than motorists and doesn't account for variations in land use.
They also claim a formula that "regulates traffic solely on the basis of a single user group" is inconsistent with the spirit of the state's new Complete Streets law. The law requires that roadways be planned and designed "to provide appropriate access to all legal users," whether they travel by "car, truck, transit, assistive device, foot or bicycle."
Chris Hackbarth, legislative associate for the Michigan Municipal League, said he agrees with that contention. He said his group will be pushing for reforms in the next legislative session.
"This issue has been raised in a numerous communities," he said, calling the state law on setting speed limits a "Frankenstein creation."
"We've had a lot of confusion about what it takes to set a speed limit and then, if you take a look at the things in these formulas, they're just outright arbitrary," he said. "There's no definition of what a road segment is. Where does a segment start and end?"
Hackbarth said it's the Michigan Municipal League's belief that a local community is best equipped to decide what its speed limits should be, and "not some arbitrary formula."
Walker argues there's a fair amount of science behind the state's access-point formula and the 85th percentile rule. He said data show that speed limits can be lowered or raised by up to 20 mph and the actual traffic speeds change very little.
"I think the reposted limits in the two sections of Washtenaw prove my point exactly," he said. "The previous limits were 30 and 35. They're now 40 and 45, and the actual travel speeds — the 85th percentile — did not change. That's normal. They don't."
He said setting limits at the 85th percentile speed "tends to give you the smoothest and safest traffic flow, the least variance between vehicles, least passing, least aggressive driving," and "it's the best way to go."
Ryan J. Stanton covers government and politics for AnnArbor.com. Reach him at ryanstanton@annarbor.com or 734-623-2529.