Posted on
Thu, Dec 16, 2010 : 6:04 a.m.
Speed limits could go up along some of Ann Arbor's most-despised speed traps
By Ryan J. Stanton
Lon Horwedel | AnnArbor.com
The threat of a class-action lawsuit over "artificially low" speed limits in the city of Ann Arbor has city officials reconsidering their stance.
On the advice of the city attorney's office, the Ann Arbor City Council is expected to vote on Monday to readopt sections of the Michigan Vehicle Code that it rejected two years ago — specifically those dealing with how speed limits should be set.
The recommended ordinance changes also include adopting the Michigan Uniform Traffic Code. That will allow the city's traffic engineers to conduct studies to justify setting speed limits at levels that might differ from the Michigan Vehicle Code formula.
The changes will put the city in a better position to defend its speed limits in court, said Robert West, senior assistant city attorney. He acknowledged it likely will result in raising speed limits on certain roads where motorists have complained for years about speed traps.
Newport Road is expected to be the first to see an increase. City traffic engineers have decided based on new studies that the speed limit could be safely raised from 25 mph to 30 mph.
"This has been brewing for a couple of years," West told AnnArbor.com. "It is a complicated thing, and I think everyone will be better off with these changes in place. And if there are speeds that are too low, we ought to raise them."
West said 2006 changes to the Michigan Vehicle Code took away some of the authority that local governments had to set speed limits on locals streets. The changes instead imposed a cumbersome "vehicle access-point formula" as the primary means for setting limits, he said.
As its name implies, the formula requires cities to use of the number of access points — driveways and intersections along a half-mile stretch of road — to set speed limits. The fewer the access points, the higher the speed must be set under the law.
City officials cited difficulties in applying the formula, as well as concerns that it could result in speed limits being dramatically increased. In 2008, the City Council passed a resolution that rescinded its adoption of sections of the Michigan Vehicle Code that dealt with speed limits.
Since that time, the police department has been writing speeding tickets using provisions of the city code, West said.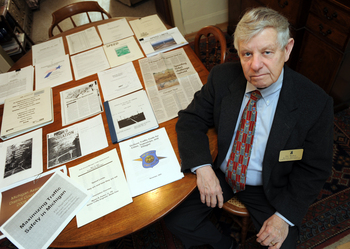 Lon Horwedel | AnnArbor.com
West said the city's approach has come under legal challenge based on the argument that the city can't adopt only a portion of the Michigan Vehicle Code, and also that a local ordinance cannot override a state statute.
"We want to comply with the law as best we can," West said. "But I think it's a poorly written law and nearly impossible to apply. I frankly think the access-point formula is ridiculous, and it doesn't take into account real world characteristics."
In addition to the access-point formula, state law gives cities other options. One is conducting traffic studies and setting the limit at the 85th percentile speed of free-flowing traffic — in other words, the speed at which 85 percent of motorists travel.
Lt. Gary Megge of the Michigan State Police Traffic Services Division said there's a lot of science to show that setting speed limits near the 85th percentile range improves both safety and traffic flow. That's what the state wants to see in Ann Arbor, he said.
"Whatever Ann Arbor does to properly establish speed limits, I wholeheartedly support that," he said. "It's all about traffic safety. That's what we're after. Set the limit correctly and then we can enforce it correctly, and that's going to maximize traffic safety."
Megge, who has been in discussions with city officials regarding speed limits, noted the state police also worked with the Michigan Department of Transportation to correct speed limits on multiple state trunklines in Ann Arbor. Earlier this year, the speed limit on M-14 near Barton Drive was increased from 55 mph to 65 mph.
"There are several reasons why speed limits are incorrect," Megge said. "My guess is they've just been there for years and years and they've never been reevaluated, changed or updated. I do know that Ann Arbor, along with the vast majority of cities in the state, many of their speed limits are definitely in need of reevaluation and correction in an upward fashion."
City officials also have been in discussions for the last several months with two Ann Arbor residents with strong opinions on the city's speed limits: attorney Tom Wieder and Jim Walker, one of the motorists who successfully fought a speeding ticket in court two years ago.
"This isn't just coming from a bunch of scofflaws who like to drive fast," Wieder said, noting the state police agency is on their side. "We wouldn't have a fight without them. They promoted the statute that we're asking the city to comply with, so absolutely they're on our side."
Wieder said he's talked to a handful of residents, including Walker, who indicated they would be willing to join in a class-action lawsuit if the city doesn't change its ways.
"I'm more interested really in getting this straightened out than trying to tag the city for a big bill," he said. "If they move to comply, I may just decide not to pursue the remedial things."
Walker, a board member of the National Motorists Association and a recognized expert on speed limits, said Ann Arbor's posted speed limits typically fall in the 10th to 30th percentile of the speeds drivers travel. He claims Ann Arbor has been a "border-to-border speed trap" for at least five decades.
He's holding his applause on winning the battle for now.
"They'll have to convince me by actual action," he said. "I want to see the predatory speed traps gone. Given the history of the city, it's a wait-and-see proposition."
Walker had his speeding ticket thrown out in court about two years ago after he argued the city's 30 mph speed limit on Nixon Road was too low. He said the city could not legally set a limit lower than allowed under the access-point formula in the Michigan Vehicle Code unless it adopted the Uniform Traffic Code, which the city is now doing.
If the city conducted proper traffic and engineering studies, Walker said, it would see that the limit on Nixon Road should be 40 mph — the speed at which he was cited for driving.
Walker won his case in 2008 and helped another motorist in Ann Arbor, Dietrich Bergmann, beat a speeding ticket using the same argument.
Bergmann was ticketed for driving 45 mph on Huron Parkway south of Huron River Drive. The limit on that stretch of road was lowered from 40 to 35 without traffic or engineering studies to support the reduction, Bergmann argued in court.
Walker called the portion of Huron Parkway between Washtenaw and Geddes "one of Ann Arbor's most lucrative speed traps." The posted speed limit is 35 mph, but Walker says it should be upped to 45 mph based on everything he's seen.
Newport Road is another "monumental speed trap," he said. The posted speed limit is 25 mph, but virtually no vehicle travels that slow, he said. He argued it should be 40 mph.
"The whole thing about under-posted limits is it makes the traffic officer into a road tax collector, and makes him hated and feared," Walker said. "And that's wrong."
The total number of speeding tickets written by all police agencies in Ann Arbor has steadily dropped — going from 8,461 in 2007 to 6,916 in 2009. So far in 2010, 5,019 speeding tickets have been written, according to court records.
Looking at just the tickets written by Ann Arbor police officers, the numbers follow the same downward trend. City officials attribute that to a decline in the number of officers.
Police Chief Barnett Jones told the City Council earlier this year that each traffic officer in Ann Arbor brings in about $110,000 per year in revenue.
"Currently, on our street, the cop just sits there and cranks out speeding tickets," said Wieder, who lives on Newport. "The compliance rate with the posted limit is damn near zero."
Ryan J. Stanton covers government and politics for AnnArbor.com. Reach him at ryanstanton@annarbor.com or 734-623-2529.