Posted on
Sun, Feb 3, 2013 : 5:59 a.m.
Delivering the goods: Ann Arbor restaurants tackle feeding fans on Super Bowl Sunday
By Janet Miller
While the San Francisco 49ers and the Baltimore Ravens take the field for the final football faceoff of the season, Ann Arbor eateries are tackling a different showdown as they prepare to feed hungry fans during Super Bowl Sunday.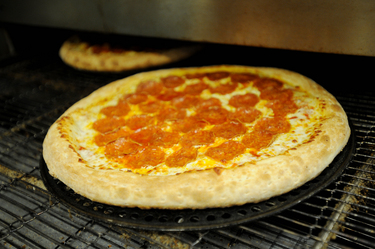 Melanie Maxwell I AnnArbor.com file photo
The big game means big business for Ann Arbor takeout, food delivery and catering. They have ordered extra supplies, brought in extra staff and are putting extra delivery cars on the road for what they expect to be a three-hour Super Bowl crush.
While Super Bowl Sunday doesn't top a busy football Saturday at the University of Michigan when it comes to total sales, it is the busiest three-hour window of the year, said Chris Bortz, general manager of Pizza House on Church Street. Pizza House will have 40 delivery drivers on the road that day, compared with 20 on most other Sundays. "We'll have a pizza going out the door every 30 seconds from an hour before the game until half time," Bortz said.
Pizza and buffalo wings are king on Super Bowl Sunday and orders are super-sized, Bortz said, as people entertain guests. "The average ticket size is double a normal Sunday."
The same three hours will bring calm to the dine-in end of Pizza House, Bortz said. Diner traffic will be half of a normal Sunday during gametime as fans stay home to watch the game.
"Our drivers have said it's a good time to be on the road. There's no traffic," Bortz said. "They'll be at a stop light with seven other pizza delivery cars."
While it's not the busiest day of the year - that honor usually goes to the day of the Hash Bash - the New York Pizza Depot (NYPD) on East William Street is gearing up for one of its biggest days, said co-owner Domenico Telemaco.
He ordered extra pizza boxes and extra cheese and will have extra staff on board. He expects to be twice as busy as a regular Sunday, especially with the Super Bowl Ann Arbor connection: San Francisco 49ers coach Jim Harbaugh was a star quarterback for University of Michigan in the 1980s and played a season of football at Ann Arbor's Pioneer High School with his brother John Harbaugh, the Ravens coach.
While Telemaco expects the rush to begin around 4 p.m. it will abruptly drop off after half time.
Nationwide, it's the biggest Sunday of the season for Ann Arbor-based Domino's Pizza, said company spokesman Chris Brandon. The company anticipates delivering more than 11 million pizza slices and 2.5 million chicken wings nationwide on gameday - a nearly 80 percent increase from a typical Sunday. Sales tend to increase when the game is close, he said, and tend to be especially large.
Not everyone wants pizza and buffalo wings. Kanwar Sandhanwalia usually gives himself and his staff at Bandito's California Style Mexican Restaurant on Fourth Avenue Sundays off. But keeping the catering end of the business open for Super Bowl Sunday is too good to pass up. "It's an opportunity to get ahead a little," he said. "It's not like art fair, but it gives us a boost." The restaurant will remain closed.
While he doesn't advertise Super Bowl catering, return customers and word of mouth have brought 33 orders and 484 people to feed this Super Bowl. Orders started to roll in as early as October and Sandhanwalia said he's not taking any more Super Bowl orders for this year.
His six drivers will deliver the food and a number of customers will pick up their orders before the game. Quesadillas, taquitos and burritos are the most popular Super Bowl grub, he said. His Super Bowl customers, Sandhanwalia said, "want to surprise their guests with anything but beer and pizza
GrubHub, a Chicago-based online and mobile food ordering service that entered the Ann Arbor market in 2011, also is preparing for a hectic Sunday, said Abby Hunt, public relations manager. "Super Bowl Sunday is always a big ordering day for us, especially for pizza and buffalo wings." They will increase customer service staff for the day, she said.
While Super Bowl Sunday isn't the biggest day for the Zingerman's Community of Businesses - think the Wednesday before Thanksgiving at Zingerman's Bakehouse for that - they do get a football kick, said Peter Sickman-Garner, marketing manager. For instance, Zingerman's Mail Order promoted its reuben sandwich kit (loaf of rye bread, corned beef, Russian dressing and coleslaw) in its e-newsletter. While they normally sell 10 of the kits on a regular weekend, they sold 50 for this weekend, he said, to customers around the country.
See some more Super Bowl super food facts:
Pizza House expects to deliver 400 orders in the three-hour Super Bowl rush, from an hour before the game to half time.
During last year's game, Domino's delivered enough pizzas nationwide to stretch across more than 5,000 football fields.
Domino's expects to sell 2.5 million chicken wings, a 165 percent increase over a typical Sunday.
While all of the restaurants take orders over the phone, most are also set up for on-line and mobile apps ordering. Domino's even has Domino's Tracker, where customers can see the status of their order. All restaurants suggested ordering ahead.
Janet Miller is a freelance reporter for AnnArbor.com.