Posted on
Thu, Jan 31, 2013 : 5:59 a.m.
Before they were Super Bowl coaches, John and Jim Harbaugh spent one season together as Ann Arbor Pioneer teammates
By Kyle Austin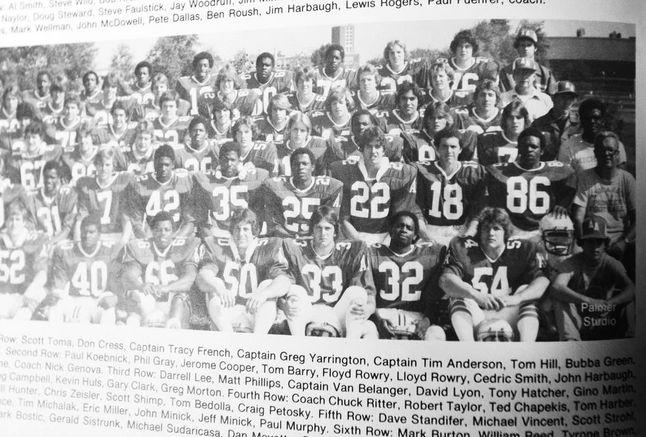 Courtesy of Pioneer High School
Editor's Note: This is the second of a series of articles about the Harbaughs' time in Ann Arbor. For more about the Harbaughs' time in Ann Arbor, check back Friday and Sunday on AnnArbor.com.
The 1979 Pioneer High School football season was in many ways, unmemorable.
Coming off a 7-2 season and a South Central Conference title, the Pioneers were hit hard by injuries, struggled to score early and stumbled to a 4-5 record. It marked the team's second losing season in 12 years.
But three decades later, the season is one of the school's most notable -- if more for its personnel than its performance. The 1979 roster contained two future NFL head coaches, brothers John and Jim Harbaugh, who will become the first siblings to coach against each other in a Super Bowl on Sunday.
John was finishing out a solid career as a senior defensive back, although he missed the first six games of that season with a knee injury. Coaches remember a hard-working, lead-by-example veteran who was well-liked by teammates.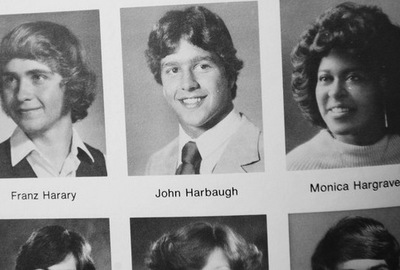 Jim, meanwhile, would emerge that season as a promising young quarterback, a 10th-grader who would go from junior varsity backup to varsity starter in a matter of a month. By the end of the season, he was being called "the real deal," as one of his coaches put it.
Their stories since that season are well-told. Jim went on to become a standout high school quarterback in Palo Alto, after his father, Jack, moved from the Michigan coaching staff to Stanford. Two years later, he returned to Ann Arbor to become Michigan's quarterback, before a 14-year NFL playing career.
John, meanwhile, went on to Miami (Ohio), and spent more than 20 years as a college and professional assistant before becoming an NFL head coach in 2008.
But before their lives diverged, the two brothers played one season of varsity football together in their last months as a family in Ann Arbor.
Starting from the bottom
At the beginning of the 1979 season, the Harbaugh brothers didn't figure to play a large role for Pioneer. John was out with an injury, and Jim was a first-year player on the junior varsity team.
And for about a week, he wasn't even the first-string quarterback on that team.
After moving up from Tappan Junior High School, Jim took snaps at quarterback. But a few days into the preseason, the coaches installed a different a quarterback named Al Smith with the first-team offense.
Jim was already known then to have a fiery, competitive demeanor. And that attitude didn't allow him to be a backup for long. The demotion lasted about a week, before Jim worked his back to the starting spot.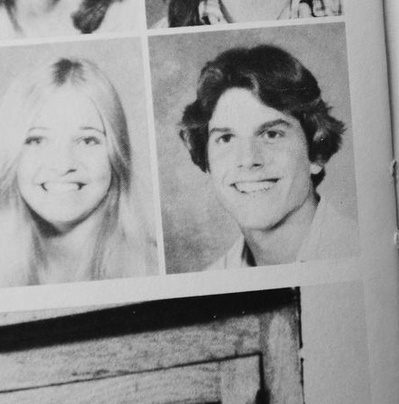 "He came back and earned his way into a starting position," JV coach
Paul Fuehrer
said. "He's a competitor, he's not going to sit down, he's a fighter. All of the things that you want in an athlete when you're coaching football."
That demeanor included some early braggadocio on the junior varsity practice fields one day.
"Paul called to me and said 'The kid said he thinks he can throw it 40 or 50 yards,'" Nick Genova, an assistant coach, said. "I said 'Well let's let him try.' And away it went, man. I said 'Wow, we've got something different here.'"
"We could more or less say he was cocky at the time, but he was pretty good. You lived with it and went with it, and nobody ever minded," Genova said.
Jim's time on the junior varsity would last only two games. But included in that early stretch may have been the first play Jim, future Super Bowl coach, ever called.
"When we got up 21-0 or whatever over a team, I would put the second team quarterback in with the first unit, so he would get used to playing with the first unit and not get beat up," Fuehrer said.
"(Jim) comes up and says 'Can I call a play?' And I said 'Sure'. He called a running play, we took like a three-yard loss on it."
Undeterred, Harbaugh was asking again five minutes later to call another play. The answer: "absolutely not."
"He kind of had a little air about him, you might say," Fuehrer said. "He and his brother, they were like having extra coaches on the field. They knew the game really well, they related to other players in a positive way."
Moving up
While Jim was leading the JV team, the varsity team was struggling, particularly on offense. Pioneer lost it's first two games, and had scored a total of just three points in those contests.
When Jim was moved from junior varsity to varsity before the third game of the season, it came as no surprise to teammates.
"When he came up, Jim was gracious, he was humble, but at the same time, very confident that he would be a successful quarterback," said John Minick, who Harbaugh displaced at the starting quarterback position in the middle of the team's fourth game, a 36-6 loss to Flint Northwestern.
"I think it would be fair to say that everybody probably on the team knew that Jim Harbaugh as a sophomore had very strong talent for that age. It was not a surprise, there was no animosity."
On the varsity level, he joined his brother, John, who had established himself as a leader on the defensive side of the ball.
"John was like a coach out there," teammate Van Belanger said. "He was a corner and he knew the play, knew what was going on and he would do what he does… that was something that always stood out.
The quiet way John had about him made for a contrast with his younger brother, who exuded confidence from day one.
"I would think about both of them, they're completely different on how they go about things" varsity coach Chuck Ritter said.
On the varsity squad, some of the older guys wanted to test the cocky young, Jim, but found it was easier said than done.
"Of course when they have a new kid come up there, and Jimmy was a little bit cocky and what have you, the kids wanted to test him. There was a wrestler named Craig Petoskey," Fuehrer said. Petoskey, an eventual state champion wrestler was tasked with putting Jim in his place. "(Petoskey) came in the next day after practice, he said 'Coach Fuehrer, I tried to catch that Harbaugh, I wanted to hit him as hard as I could, but I just couldn't catch him.'"
Ann Arbor News archive
Jim's varsity football debut came on Sept. 28 against Flint Southwestern, when he took over for Minick in the second quarter and threw a 28-yard touchdown pass in the fourth quarter.
"When he came into the huddle he was so excited about coming in he could hardly call the play," Belanger said. "I remember that."
Ritter told the Ann Arbor News at the time that the loss to Southwestern was "embarrassing" and vowed to make sweeping changes to the lineup.
"We may make some changes. We're going to find out who the kids are that want to play and get some of the others out of there. Some are just not doing the job," Ritter told the Ann Arbor News after the game.
One of those changes was installing Jim as the starter the next week.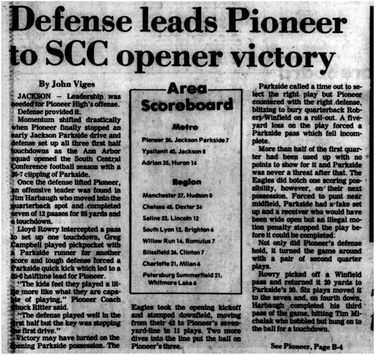 In his first start, Harbaugh went 7-for-12 for 93 yards with a touchdown. He had ups and downs the rest of the season -- two interceptions, no touchdowns against Adrian, two touchdown passes in a season-ending win against Huron.
And in an era of run-heavy football, Harbaugh's development helped change Pioneer's game plan.
"He was throwing the ball 17 or 18 times average per game, which was pretty unusual then for that particular time I would say," Fuehrer said. "I don't know if a whole lot of quarterbacks in the country were throwing the ball as much as him."
By the end of the season, before the Huron matchup, the sophomore quarterback had gained notoriety at both Pioneer and Huron.
"He's going to be a good one," Ritter told the Ann Arbor News then. "Certainly he has a lot to learn but he's shown good poise for a sophomore quarterback. With him, we'll have a passing attack that Huron will have to be aware of."
Former Ann Arbor News sportswriter John Viges wrote at the time "Pioneer needs to run but its best weapon probably is sophomore quarterback Jim Harbaugh who has perked up the attack since he took over midway through the season."
Viges was prophetic, Pioneer's strength was its running in a 20-8 win over Huron, but Harbaugh had two touchdown passes as well.
Moving on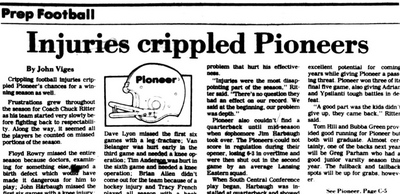 An Ann Arbor News season-wrap up from that season notes that "Pioneer should be strong at quarterback if Harbaugh's father, Jack, doesn't decide to leave his position on the University of Michigan staff and move his family."
The story also lamented of what could have been in 1979 had the Pioneers not been setback by injuries to key players like John Harbaugh.
That's exactly what happened early in 1980, when Jack took the defensive coordinator position at Stanford.
From that point on, the Harbaugh brothers' paths wouldn't cross on a football field until last season, after Jim had become the San Francisco 49ers coach.
And when they stand on opposing sidelines Sunday, many from Ann Arbor will remember them as Pioneer teammates three decades ago.
"I think it's not only good for the people in Ann Arbor but I think it's great for football that they're going against each other," Fuehrer said.
Ben Freed and Pete Cunningham contributed to this report.
Archives
Check out old Ann Arbor News articles from the season the Harbaugh brothers were teammates at Pioneer High School.
Kyle Austin covers sports for AnnArbor.com. He can be reached at kyleaustin@annarbor.com or 734-623-2535. Follow him on Twitter @KAustin_AA.