Delonis Center to begin housing Camp Take Notice residents tonight
Posted on Thu, Jun 21, 2012 : 6:20 p.m.
As the midnight deadline to leave Camp Take Notice nears, some residents of the homeless encampment will be moving to the Delonis Center today at 9 p.m.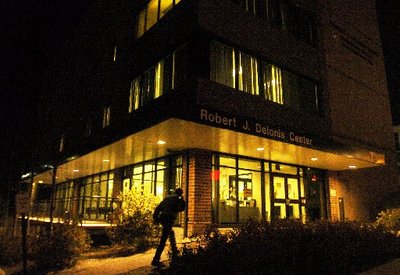 File photo
Executive Director of the Shelter Association of Washtenaw County
Ellen Schulmeister
said the center, located at
312 W. Huron St.
, has been working with the state to figure out how to house the people.
"We're just starting tonight and no one has arrived yet," Schulmeister said.
The center is currently filled to it's maximum of 75 people, so the incoming Camp Take Notice residents will be set up in a space on the first floor of the warming center that is typically used during the winter.
Schulmeister said about 40 people can fit comfortably in the space and she expects them to be there until the end of August. Typically, individuals stay between 45 to 50 days at the center until they can find housing.
"It may not last that long though if we're able to house them," she said. "We're trying to match each individual person with a place."
Residents of Camp Take Notice - located in a state highway median off of Wagner Road in Scio Township - are eligible for housing subsidies being offered by the Michigan State Housing Development Authority, but organizers are anticipating a gap between the camp's closing and housing availability.
According to John Loring with the Washtenaw County Homeless Project Outreach Team, 31 people have filled out paperwork for the subsidy programs so far.
Schulmeister said she doesn't expect they'll have to turn anyone away that was at the camp since a number of them have already left the camp.
"It's hard to say if we'll have to but we will if we reach our capacity," she said. "What we would do is talk to them to see if there is someone they can call and see if they can go to another shelter. We do the best we can with each person."
Schulmeister said the center had been working with Camp Take Notice and the state prior to the eviction to provide services.
"Several of the people at the camp came and took part in the community meals, laundry services and other servicers," she said. "We have always worked closely with the camp to let them know what services we have and we're happy to expand these services."
AnnArbor.com previously reported that as of 3 p.m. today, many tents and other makeshift structures were still standing in the camp just west of Ann Arbor as residents and volunteers worked in temperatures hovering in the 90s.
The Michigan Department of Transportation on May 29 ordered residents of Camp Take Notice to leave by June 22 or face possible arrest on trespassing charges.
Tuesday, MDOT workers began erecting an eight-foot-tall fence along Wagner Road to restrict access to the property.