Posted on
Mon, Dec 3, 2012 : 12:53 p.m.
Dense fog advisory extended for Ann Arbor area
By Cindy Heflin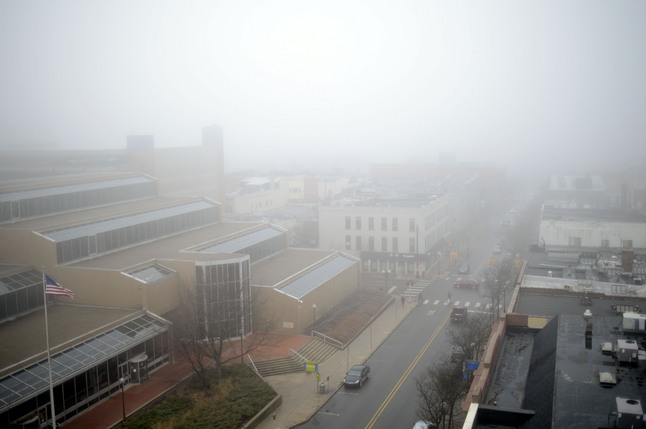 Melanie Maxwell | AnnArbor.com
The
National Weather Service
has extended the
dense fog advisory
for the
Ann Arbor
area until 4 p.m. Monday.
Visibility will continue to be restricted to a quarter mile in many areas during the advisory period, the weather service said. The advisory had earlier been scheduled to end at 2 p.m.
The fog Monday is the result of a warm front combined with a lot of warm moist air hovering near Earth's surface, said National Weather Service meteorologist Mike Richter. A southeasterly wind also is blowing moisture into the area off Lake Erie and Lake St. Clair, he said.
The fog was sticking around longer Monday than it would at other times of the year, at least in part because of the low angle of the sun in the sky in December, Richter said. "You just don't get enough heating from the top to burn it off," he said.
The dense fog has been widespread throughout southeast Michigan, stretching from the Ohio border to White Lake Township, where the National Weather Service has its office.
Even after the fog begins to lift, visibility could remain low in some areas this evening, Richter said.
"I think there's still going to be at least some pockets of dense fog into the evening hours," he said.
The fog comes in the midst of an unseasonably warm period for Ann Arbor. But a change is in store starting Tuesday.
The high today will be about 61 degrees, but along with the fog, the warm weather will come with periods of drizzle, forecasters say.
Scattered showers and thunderstorms are likely Monday night, with a low around 55 degrees.
Showers are likely Tuesday, mainly before 11 a.m. Then skies will begin to clear, but the temperature will drop to about 50 by 5 p.m., the National Weather Service said. Temperatures will keep falling overnight with a low of about 31 expected.
Wednesday it will be mostly sunny, but the high is only expected to reach 37.
For weather forecasts and conditions any time, check AnnArbor.com's weather page.
Cindy Heflin is associate news director at AnnArbor.com. Contact her at cindyheflin@annarbor.com or 734-623-2572 or follow her on Twitter.