Posted on
Mon, Dec 3, 2012 : 4:44 p.m.
Dense fog to stick around overnight in Ann Arbor area; advisory extended
By Cindy Heflin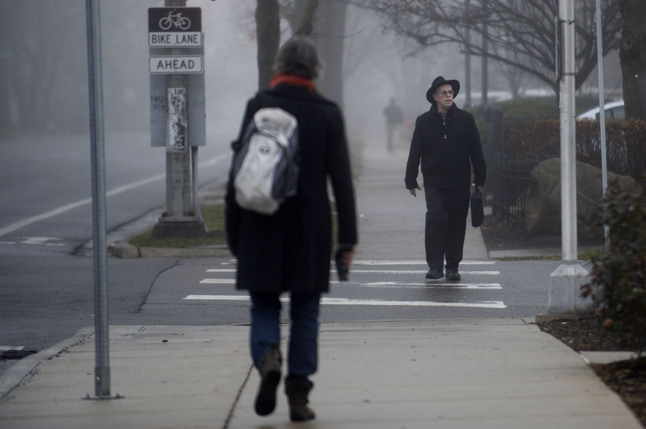 Melanie Maxwell | AnnArbor.com
Updated Monday evening: The National Weather service canceled the advisory.
The National Weather Service now says fog that plagued the Ann Arbor area all day Monday will linger overnight. The weather service has extended the dense fog advisory issued for southeast Michigan until 4 a.m. Tuesday.
Despite the extension of the advisory, which the weather service had previously said would expire at 2 p.m. and then at 4 p.m., fog that had blanketed the downtown Ann Arbor area for most of the day had lifted considerably by 4 p.m.
Sarah Schultz, a meteorologist with the National Weather Service in White Lake Township, said the fog could drop back down and blanket the area or dense fog could form in patches. The worst of it is likely to be to the northeast of Ann Arbor overnight though, she said.
Visibility throughout the area should begin to improve after midnight as winds pick up, she said.
Forecasters say showers are possible overnight and showers and possibly a thunderstorm likely after 4 a.m.
Tuesday, the rain continues in the morning. Then temperatures will begin to fall with a low of 29 expected Tuesday night after a high of about 57 during the day.
Wednesday will be mostly sunny, with a high near 38.
For weather forecasts and conditions any time, check AnnArbor.com's weather page.
Cindy Heflin is associate news director at AnnArbor.com. Contact her at cindyheflin@annarbor.com or 734-623-2572 or follow her on Twitter.