Posted on
Thu, Dec 15, 2011 : 9 p.m.
Deportation of Ann Arbor woman delayed one year
By Julie Baker
The deportation of Lourdes Salazar Bautista of Ann Arbor has been postponed one year through deferred action, immigration rights supporters said.
Bautista came to the U.S. from Mexico in 1997 and was facing deportation Dec. 27 after being detained by U.S. Immigration and Customs Enforcement for nearly a month in July 2010.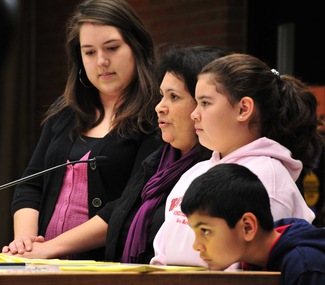 Ryan J. Stanton | AnnArbor.com
She is the mother of three children — ages 7, 9 and 13 — who are U.S. citizens. Her husband was deported to Mexico in 2010.
"I want to thank everyone who has signed my petition, made phone calls and signed onto letters of support. This experience has taught me so much. I want to teach others about my struggle so that they can learn how to stand up for their families. No one else should have to go through what my family is going through," Bautista said in a statement.
Efforts to stop her deportation included the support of various local and national advocates including the Washtenaw Interfaith Coalition for Immigrant Rights, the Social Work Allies for Immigrant Rights, Dreamactivist.org, Alliance for Immigrants Rights - Michigan, Migrant Immigrant Rights Advocacy, Immigrant Rights on Campus, St. Francis of Assissi Catholic Church, Michigan Immigration and Labor Law Association, and St. Mary Student Parish Catholic Church.
Supporters last week asked the Ann Arbor City Council to help join the effort.
Organizers also held a Day of the Dead rally, a petition drive that yielded 2,500 signatures and several phone drives in support of Bautista.
"Although we are very happy that Lourdes has been granted deferred action and she will get to spend a wonderful Christmas with her family, we want to push on President Obama to implement Prosecutorial Discretion for all those families that did not get Lourdes's support and will spend this Christmas separated from their loved ones," Carlos Zavala, advocate for the Washtenaw Interfaith Coalition of Immigrant Rights, said in a statement.